Inquire
Now
Galapagos Cruise Finder
Amazon Tours
(click here)
Ecuador Tours
(click here)
Ecuador & Peru Packages
(click here)
Hoteles & Haciendas
(click here)
Call the Galapagos Experts. TOLL FREE!
1-877-667-7445
0800-051-3847
02-8005-8069
0366-2845-3321
097-0445-277
022-575-2078
+593-2-2527-026
Free Trip Planning
Office hours are 9am-5pm. Mon-Fri. GMT -5hrs. Eastern Time
Galapagos Home > Ecuador Trip Extensions > Ecuador Hotels & Haciendas

Ecuador Hotels & Haciendas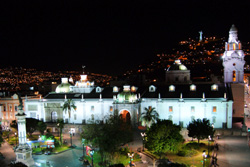 Quito Hotels
There are many hotels in Quito, most of which are situated in the Mariscal district.
The Mariscal is located between the modern, northern part of Quito and Old Town in the south of Quito. The narrow streets of Quito's Old Town are lined with beautiful colonial buildings.
Quito is the second highest capital in Latin America and is situated 20 minutes south of the Equator.
Quito was the first city designated a World Cultural Heritage Site by UNESCO. Quito has a lovely climate with warm days and cool nights. It is the city of perpetual spring!
---
Guayaquil Hotels
Guayaquil is Ecuador's main port and largest city. It is considered the nation's economic capital.
The newly completed Malecón is a collection of restaurants, theatres, and parks along Malecón Avenue, which runs parallel to the Guayas River. The Malecón is a sight not to be missed.
---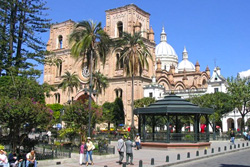 Cuenca Hotels
The cozy and welcoming city of Cuenca is the 3rd largest city in Ecuador.
You will quickly understand why Cuenca is designated a World Cultural Heritage Site by UNESCO. It is renown for its 17th century colonial architecture and cobblestone streets.
Cuenca is known as Santa Ana de los Cuatro Ríos de Cuenca or in English Santa Ana of the Four Rivers of Cuenca.
The streets and shops of Cuenca are filled with artisans creating precious crafts of gold, glass, ceramics and the popular Panama hats, among many others.
---
Andes Hotels and Haciendas
The charming haciendas of Ecuador are living relics of the rich history of the Andean region.
Rustic elegance, spectacular natural settings, and an air of history are typical of the haciendas.
---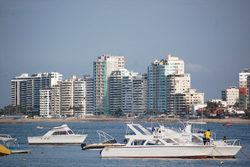 Pacific Coast Hotels
Hotels from the Ecuador's Pacific Coast; including charming places as: Balandra, Palmazul, Calippso and Atamari.
CONTACT US TODAY!
Call us Toll Free
Local Number
Send us an Mail
1-877-986-6435
407-412-9215
info@galapagosislands.com
*Office Hours: Monday to Friday 9am to 6pm - GMT -5hrs. Eastern Time