Call the Galapagos Experts. TOLL FREE!
1-877-667-7445
1-800-811-4037
0800-051-3847
0366-2845-3321
0970-407-498
02-8005-8069
022-575-2078
+593-2-2527-026
Free Trip Planning
Office hours are 9am-5pm. Mon-Fri. GMT -5hrs. Eastern Time
Galapagos Home > Galapagos Islands Trips > Galapagos Diving Tours > Tour Options > Live Aboard Diving

Live Aboard Galapagos Diving
Intensive Galapagos diving experience
See whale sharks
Visit the best Galapagos dive sites
Avoid the 1-2 hr journey back to ports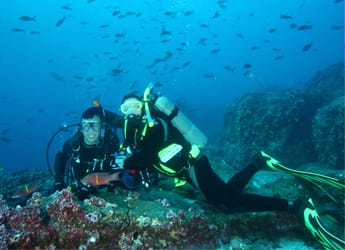 Galapagos Live Aboard Boat Comparison
* The recommendation rating is based on the value for money within the category. Accommodation, itinerary, service, passenger feedback and price are all taken in consideration.
Aggressor I and II Yachts
16 passengers

First Class


From: $5,195 (8d/7n)
Galapagos Sky Yacht
16 passengers

First Class


From: $5,195 (8d/7n)
Deep Blue Yacht
16 passengers

First Class


From: $3,995 (8d/7n)

Wolf Buddy & Darwin Buddy Yachts
16 passengers

First Class


From: $4,495 (8d/7n)
Humboldt Explorer Yacht
16 passengers

First Class


From: $4,295 (8d/7n)
Pingüino Explorer Yacht
16 passengers

Mid-range


From: $3,145 (8d/7n)
Call us toll free: 1-877-986-6435, 1-877-667-7445. Local US number: 407-412-9515.
Office Hours are 9:00am-6:00pm Mon-Fri. GMT -5