Galapagos Islands are such a special and unique place that it´s no wonder the cruising out here is special and unique as well!  What are the key differences between "Mega" Caribbean Cruising and Galapagos Cruising? Let´s take a look:
SIZE: Cruising in the Caribbean is generally associated with the mega ships:  Some cruises boast accommodation for 3000+ passengers!  The current largest cruise ship in the world, Royal Caribbean´s Oasis of the Seas, is 362 meters (1,187 ft.) in length, 63 meters (208 ft.) in width, and has the capacity for 5,400 passengers, and 2,165 crew members.  The structure weighs in at 225,000 gross tons!

Compare this floating city with an average Galapagos vessel, holding 16 passengers, and it´s like comparing apples and oranges.  The newest catamaran to the islands, Ocean Spray, for example, measures 34 meters (113 ft.) in length, is 13 meters (43 ft.) wide, and weighs 170 gross tons.  Both boats offer the traveler a wealth of experiences, but how do these experiences vary?
ON-BOARD ACTIVITIES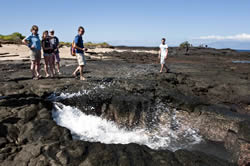 The mega-ships offer lots to do aboard while sailing:  Casinos, restaurants, coffee bars, waterslides, Broadway-style shows, skating rinks, rock-climbing walls, splash pools and so much more. There are activities for young and old, from children's programs to Bingo games and scrap booking workshops.
Aboard Galapagos cruises the waterslide and wave pool are replaced by daily snorkeling excursions in the ocean with sea lions.  Daily activities are primarily off-boat, including visiting lagoons, scampering over lava rocks, and climbing into volcanic craters. Watching the Blue Footed Booby mating dance and seeing the Waved Albatross take flight off a cliff are entertainment on their own.
SHORE EXCURSIONS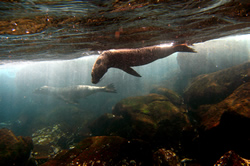 The large cruise lines offer various shore excursions, depending on their ports of call.  Stingray City in the Cayman Islands, snorkeling trips in Cozumel, scuba diving from St. Bart's…the list goes on and on.  Each port of call on your adventure offers a range of activities and highlights with an extra charge for each one.
Galapagos cruises generally offer two land visits and a snorkeling excursion per day, constant close-up bird, whale, or dolphin watching and star gazing in the evening, all included in the cost of the cruise.  Each excursion offers a completely different landscape and brings you up close and personal to a vast array of Galapagos animals.  Galapagos boasts unique and endemic (not found anywhere else in the world) animal species and of course, is Darwin's Living Laboratory!
SERVICES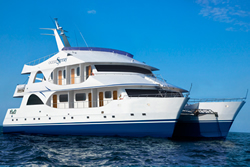 Both mega-ships and Galapagos vessels offer luxury services including incredible cuisine, experienced and professional staff members, on-going housekeeping, and service with a smile; it's like one of those burnaby condos that you see everywhere advertised and they look amazing.  Service is more personalized, however, on Galapagos cruises. On a 16 passenger yacht, for example, the crew may know your name, you become friends with other passengers, and your evening 5-star meal is served under the stars.
Don't take our word for it; check out the amenities of our cruises complete with boat specs and information! Talk to one of our trip advisors to start planning your unique vacation – the Galapagos Islands awaits you!