Galapagos Cruise Vacations
Book your Galapagos Cruise with GalapagosIslands.com, offering the best vacation cruises to the Galapagos. One of the most efficient and enjoyable ways to explore the Galapagos Islands is on a live-aboard cruise ship. Select from the following options to find the best cruise ships & yachts for your Galapagos Island vacation cruise.

If you want to get the inside scoop on traveling to the Galapagos Islands, look no further! Get Galapagos Travel Center's top 10 tips on how to travel to the Galapagos Islands, now!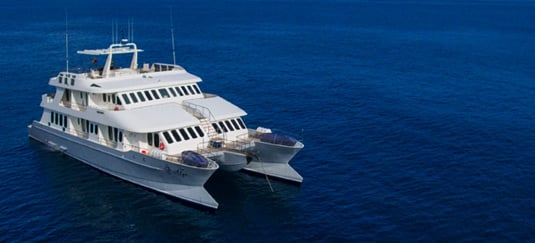 Type of Galapagos Boats
The most intuitive method to differentiate boats in the Galapagos Islands is the category we assign them according to their level of service, facilities and features: Luxury, first class, mid-range and budget. Almost always the category goes according to the price of the cruise; however, there are other characteristics that have an important impact on the experience you may have in the Enchanted Islands.
A medium size cruise ship with more than 20 passengers offers very different experiences than a smaller boat, such as a motor yacht, catamaran or sailing boat. To learn more about the differences between a large and a small boat, please click here.
Liveaboard Diving Cruises
The Galapagos Islands, due to its pristine environment and geographic location are a prime world destination to practice Scuba Diving. However, not all boats allow its passengers to practice this activity, and only a handfull of yachts offer 8-day diving programs that include the best underwater spots in the Archipelago, such as the islands of Darwin and Wolf.
Browse through our list of liveaboard diving cruises and let us help you plan your Galapagos adventure now.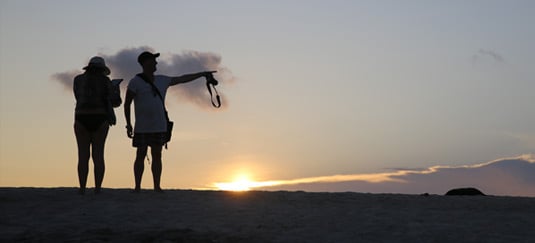 Which boat should I choose?
Traveling as a couple or with kids? Are you part of a family or a corporate group? Would you rather not spend so many days in the Islands but to stay in a nicer cruise? The answers to these questions could make one type of boat a better option than another; and our expert trip advisors are more than willing to help you.
Do you want a sneak peak? Take the quiz bellow to find out which is the best Galapagos cruise for you:

---

---