When you finally take your trip of a lifetime and visit the Galapagos Islands, you have the option of arriving at one of two islands: San Cristobal Island, or Baltra Island. The San Cristobal Island is very close to town, but landing at the Baltra Island airport means transferring from Batra airport to Puerto Ayora.
Baltra Island is located just North of Santa Cruz Island in the Galapagos. The original airport and track at Baltra was a US Military base during WWII. Now Baltra Island is home to the small airport that receives daily flights flying from the cities in Quito and Guayaquil in mainland Ecuador. It's important to stress that there are no international flights to the Enchanted Islands.
Apart from the airport, there is not much to be seen in Baltra, so you will need to head to the "Canal de Itabaca" weather for taking your cruise, for riding to Puerto Ayora, where the real Galapagos adventure will begging.
Getting to Santa Cruz will take you around 40 minutes once you have crossed the Itabaca Chanel. Underneath you will find a more detailed explanation of what to expect when transferring from Baltra to Puerto Ayora.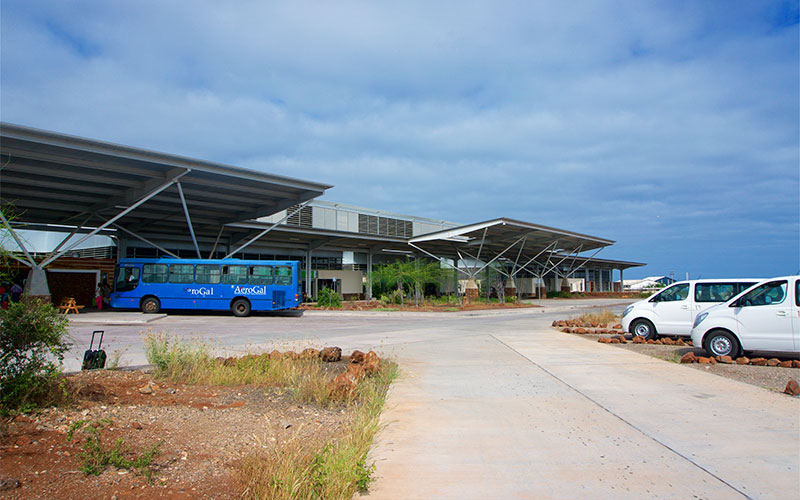 By bus to the "Itabaca Channel"
Once you have collected your luggage and presented your luggage tag to the staff member at the exit, you need to catch a bus that will take you to the Itabaca channel. These busses are parked outside of the arrival terminal if by any chance there is no bus, just relax, one will arrive soon. You can place your bags in the baggage compartment, or carry them onto the bus with you. The bus ride takes around 5 minutes and drops you off at the Itabaca Channel which flows between Santa Cruz and Baltra.
Ferry across the Itabaca Channel
At Itabaca Channel, you take your bags to the ferry, and place them on the roof! The It will take you about 10 minutes to cross the Itabaca Channel. It´s a great opportunity for some first pictures of the Galapagos: crystal blue waters, lush green foliage, and hot blue skies!
Taxi or Bus to Puerto Ayora
Once you collect your bags from the ferry roof, there are several options:
There is so much to do in Puerto Ayora, and several visitor sites along the way from the Itabaca Channel. Get in touch with one of our sales assistants at for more travel tips and things to see and do!
Taxi: Taxis in Santa Cruz are white pickup trucks. The cost of a taxi from the Itabaca Channel to Puerto Ayora is around $20.00. There will be drivers waiting at the dock offering to take you into town. Make new friends to split the expenses. The driver will take you to any destination in town.
Bus: Several busses will be waiting here to collect passengers and take them into Puerto Ayora. The trip takes about 45 minutes. These busses are most often crowded, and there is no air conditioning. The bus will drop you off at the main junction in town: Charles Darwin Avenue and Baltra Avenue. This is the "downtown", if you will, where you can find passenger peers, supermarket, post office, children´s playground and an outdoor sports court with a stage. From here, you can take a taxi (white pickup truck) to anywhere in town.