So now you're bones are being jarred to extreme limits as the long wheel base Land Cruiser rushes up a deeply rutted track that ends at a small car park at 14,950 feet altitude on the north face of Cotopaxi, the highest active volcano in the world. Welcome to extreme sports in Ecuador, a land of challenging adventure sports where levels of extreme are yours for the choosing.
Your task today is to grab a mountain bike off the roof of the Land Cruiser when it's parked up and rush back down the vertiginous, pot-holed, windy track as fast as you dare not letting go of the brakes for even a moment.  Before you do, grab a hot drink from your flask and take in the majestic views of sister peaks in the near and far distance. 
In the Andes you are never far from slopes. There are probably more slopes than flat surfaces, so Ecuadorians just love downhill mountain biking. Typically the bikes are beefed up with stronger wheels and shocks to absorb the multiple impacts.
Another great run is from temperate Quito to Mindo. While everyone else is taking the 'boring' bus route you can style it by hurtling down a more direct twenty mile long dirt track from the slopes of Pichincha volcano through the exuberant cloud forests until you reach tropical Mindo.
Before you stash your bikes on the roof rack of a Quito bound bus hang around a day or two and book in some canyoning which is what Ecuadorians call rappelling down waterfalls. This is a guaranteed adrenaline rush as you lower yourself over the edge of the cascade. Abseiling down through the middle of a 60 foot high waterfall calls for resistance, great balance and judgment keeping your knees bent so your legs can keep you balanced against the face of the cascade.
Baños is Ecuador's Queenstown. This small picturesque mountain town is a magnet for adventure junkies lying at the foot of Tungarahua volcano which has been on active alert status for 18 years now since 1999. The famous thermal pools are old hat now as Baños has realized that it can go better and further setting itself up as an extreme sport center.
Perhaps the craziest sport is called Puente. Puente is a thrilling hybrid of bungee jumping. You strap on a harness and a dynamic rope that has been passed under a bridge and then throw yourself off the bridge meaning you swing backwards and forwards in huge arcs instead of experiencing the bouncing up and down of bungee jumping. The rush of adrenaline is intoxicating meaning you'll probably do more than one jump.
Canyoning is available in Baños as there are dozens of cascades close by to town that plunge from mountainsides into the roaring Pastaza River which foams and slashes its way through the eastern flanks of the Andes to eventually join up with the Amazon hundreds of kilometers downstream.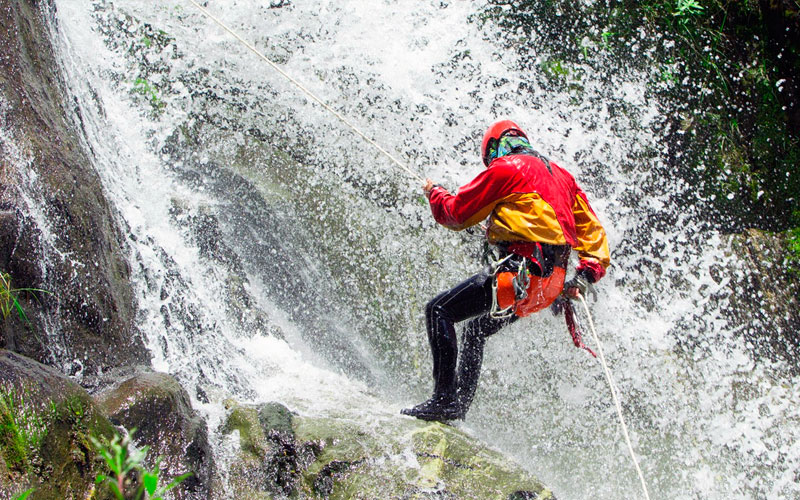 Foaming rivers? If this sounds like a recipe for wild rafting and challenging kayaking you'd be right. While you can do these extreme sports out of Baños the real hotspot is Tena, a bustling jungle town 4 hours to the north. Tena hosted the 2005 World Rafting Championships and ever since has been a magnet for extreme sports fanatics.
Tena is great for class III rafting and kayaking action on rivers such as the Jatunyacu but if you really want to extreme it to the max then head a further 2 hours north to Baeza which is actually only 3 hours from Quito. Here you'll find the world renowned Quijos river valley. The Quijos has a bunch of class IV and V runs which is just about as serious as you can get in Ecuador or anywhere in the world.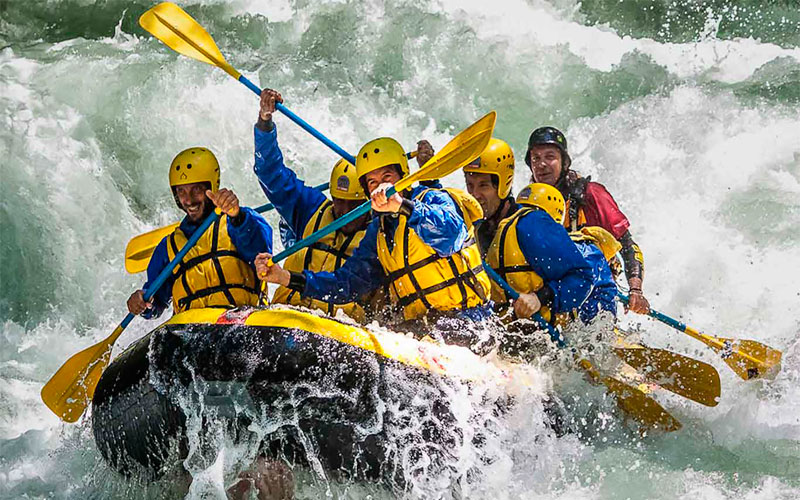 Most tourists will get enough adrenaline rafting on jungle rivers such as the Misahualli and the afore-mentioned Jatunyacu. The rapids sections can literally be as exciting as you want because how the guide steers a raft past the boulders will determine the level of thrills and spills.
Of course, with so many 5,000 plus meter volcanoes then there is no shortage of opportunity for mountaineers. But you don't have to be hardcore to participate. There are some volcanoes such as Antisana and El Altar which are technically more difficult and this combined with their remoteness converts any summit attempts into epic challenges.
But other volcanoes such as Cotopaxi and Chimborazo are more manageable and although they are technically easy with some crampon and rope use at the snow covered summits, your biggest challenge will be the altitude so you need to make sure you acclimatize to these altitudes by climbing lower summits such as Pichincha, Imbabura and the Illinizas.
Parapente or paragliding is another sport that has taken off in Ecuador recently. It's very common to see paragliders filling the skies over Quito after a large group take off from the Quito teleferico. You can do solo flights and ride tandem but if you are a just getting started you'll probably feel safer taking the plunge on the Pacific Coast. Crucita has a famous cliff from where they run courses and you can also soar above the Pacific at Machalilla, Canoa and Guayaquil.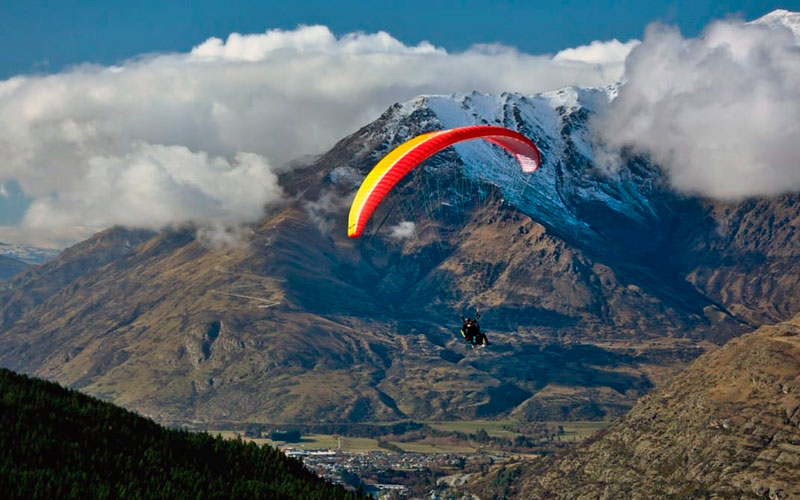 Down at beach level Ecuador has great surfing and the 2 hottest points are at Montañita and Canoa. The latter is the more laid back of the two while Montañita is an extreme party town with extreme sports. If you're done with surfing then try your hand at kitesurfing. We're ratcheting up the extremism here. This is windsurfing on steroids but if you're up for this then Santa Marianita near Manta or Montañita will be your ports of call.
The list goes on and on. Cliff diving or jumping at Las Grietas in Puerto Ayora on the Galapagos Islands is a fun activity when you visit the Galapagos along with scuba diving. Due to its popularity, scuba diving in the Galapagos may not seem extreme but being 40 foot under water watching barracuda and hammerhead sharks sounds like quite the adventure to us.
And lastly, if by any chance you always fancied running with the bulls in Pamplona Spain but never got round to it then you can do a safer version in Pillaro, a small Andean town near Ambato where they have an annual 'Little Pamplona' bull running event. Up to smaller 45 bulls are released into a street with all the transversal streets shut off. This bull run is part of the larger summer festival where the whole town is in party mood.
In this country of extreme beauty and biodiversity we can add another extreme – Ecuador home of extreme sports.