I love towns like Puerto Ayora; large enough and with enough visitors that you continually meet new people but small and laid-back enough that you never feel stressed.
Puerto Ayora is the still quite sleepy little capital of Santa Cruz Island. There are a few pickups rolling down the streets, some mopeds and motorbikes either parked up or buzzing around and a combination of islanders and tourists strolling the sidewalks.
Not to mention a basking sea lion or two on the Malecon benches.
Here is where you'll likely start a tour of the Galapagos, in the most central island with fast connecting launches to San Cristobal and Isabela. Aside from the port where many yacht cruises start.
How to get to Puerto Ayora?
By plane from the mainland or on a yacht or launch from another island is the way most people will arrive. Visitors arrive from
Quito
or
Guayaquil
at the airport that serves Santa Cruz even though that airport is on another smaller island called
Baltra
which is separated by a very narrow strait from Santa Cruz.
After landing in the Baltra airport, an aiport shuttle will take you down to the Itabaca Channel, which must be crossed to get to the Santa Cruz Islands. Once on Santa Cruz, you'll get a taxi or bus across the island to Puerto Ayora. Every need and budget is catered for from luxury hotels to hostels but when the high season arrives you best have a reservation no matter what your budget.
Luxurious hotels
have outdoor swimming pools and saunas and good restaurants attached. Not surprisingly, those hotels at water edge command premium rates for the privilege of spectacular ocean views.
Getting Around Puerto Ayora
Getting around is simple. If you don't mind stretching your legs you'll find almost everything is within walking distance. However, if you're in a hurry, hen flag down one of the ubiquitous white pickups that will gladly let you ride behind the cab and charge very low flat-rate for anywhere in town.
With all the visitors funneling through Puerto Ayora there is a wide choice of restaurants, cafes, and bars. Typical Galapagos seafood dishes can be found at Garrapata and Isla Grill. The Red Mangrove with beautiful views of the harbor offers a Japanese menu and if you start yearning for no seafood dishes then try Italian food at La Dolce Italia or pizza or a Denomination of origin – Specialty Coffe at the very popular OMG Galapagos Coffee House.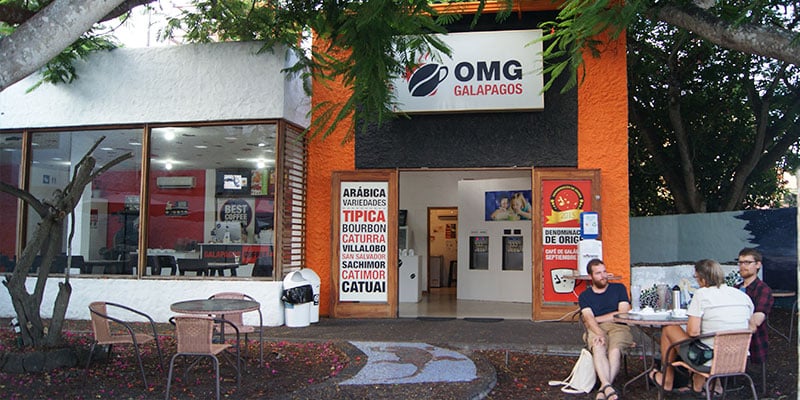 There's a world of places to visit in Puerto Ayora and close by. Perhaps the first stop in the morning could be the fisherman's market just off Charles Darwin Avenue. Although the variety of fish is impressive the real stars of the show are the sea lions waiting impatiently for scraps thrown by the workers cutting up the fish. Not to be outdone, pelicans glide overhead searching out what the sea lions are too lazy to chase.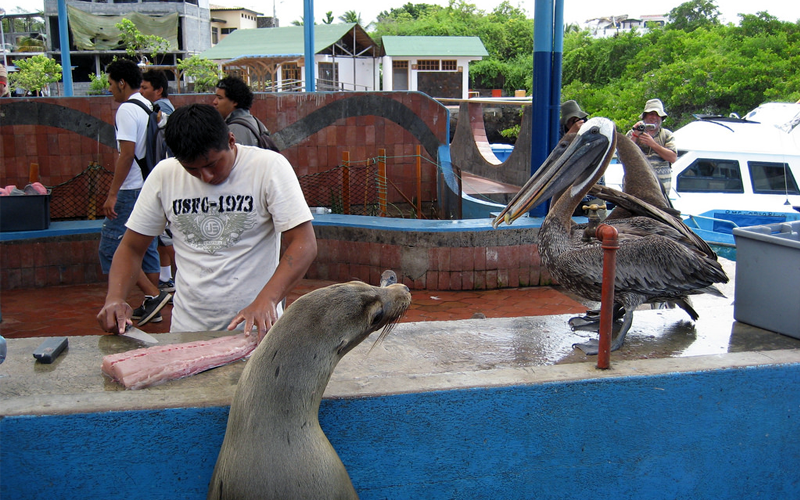 If you are desperate to get to a beach and feel some powder puff white sand then head to German Beach or Tortuga Bay. You don't need a guide to go to either beach; Playa Los Alemanes (German Beach) is closer but 'on the other side' as the locals say which means just over the other side of the peninsula.
You can get a local water ferry for a nominal price from one of the piers in Puerto Ayora harbor. Tortuga Bay is further away, just under an hour along a straight path but is a long expanse of white sand and turquoise water. As a great bonus, this is a habitat for the endemic, unique and
endangered marine iguanas
.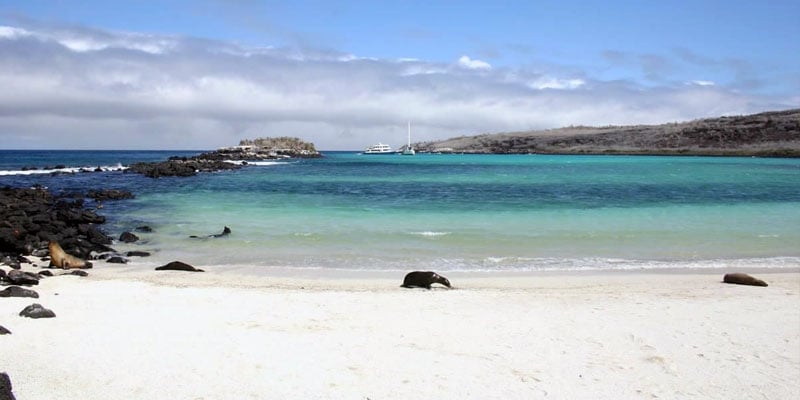 Between the two beaches, you'll find Las Grietas, a very cool 30-foot deep slash in the rocky peninsula that is filled with turquoise water – perfect for jumping in and cooling off. The upper layers of the water are freshwater and the lower levels are sea water. You can swim and snorkel here and there are normally many fish in the waters. This makes for a great hike to arrive and the perfect cool off spot.
Santa Cruz is a volcanic island so the center is made up of highlands with luxuriant vegetation, something that a 350 lb tortoise greatly appreciates. For a change of scenery and to get an up-close look at giant tortoises in their natural environment it's definitely worth taking a half day trip out to El Chato Reserve which is a Galapagos Giant Tortoise conservation ranch with dozens of tortoises on site.
You could quite easily spend 3 days hanging in Puerto Ayora. I didn't yet mention lava tunnels, the Twin Craters, art galleries and Garrapatero Beach – all worth a visit if you are in Puerto Ayora for a few days.
Then when it comes time to move on you can catch a fast launch or a plane to other islands. Me? I'll be staying a little longer – this is my kind of town.