A visit to the Galapagos over the holidays during the warm season is an experience to be talked about for years to come. December and January mark the beginning of the Warm season throughout the archipelago. Sunny skies and calm waters are interrupted by afternoon showers that liven up the landscape and bring new tides and wildlife to the turquoise waters.
Families, couples and students arrive for winter break yearly. All poised to take in the majestic landscape and stunning animals that roam free on and underneath the shores of Darwin's playground.
Here are a few ideas when planning a trip during the high season that are worth the time to discover.
Snorkeling and Diving
Gardner Bay on Española is a crescent shaped cove with calm waters to snorkel, a sea lion colony to enjoy on the beach and is a nesting ground for sea turtles when the night falls. The blue waters are alive with parrot fish, stingrays and a kaleidoscope of activity and color.
The influx of the warmer tides and winds bring a greater chance of seeing Hammerhead Sharks and imposing Manta Rays. Kicker Rock off of San Cristobal is a favorite spot to snorkel around the landmark's deep walls, alive with vibrant schools of fish and brightly colored coral.
Check Out the Wildlife
The warm season is also a special time for many of the creatures of the Galapagos Islands. It marks the arrival of nesting and breeding season for many birds, including the blue-footed booby's elaborate mating ritual in March and April.
These two months are the start of hatching season, with sea turtles, iguanas, giant tortoises and flamingos welcoming new members in the brood. Each species has its own habitat to raise their young, with giant tortoises seen at lower elevations after coming down from the highlands to lay their eggs.
Hop on a Boat
Daytrips and Galapagos cruises take you far out of the familiar and into the extraordinary world of the Galapagos Islands. Pirate coves, natural landmarks and incredible scenery clutter the landscape and present breathtaking moments around every turn.
Taking a cruise over the holiday season is an exercise in the best that the islands have to offer. However you like to travel, there are options for short or long cruises, diving or sightseeing trips following a handful of routes through different sections of the islands.
Anywhere you travel in Ecuador over the winter holidays is a light with the spirit of the people.. In the Galapagos Islands during the beginning days of the warm season, the marine life, land animals and rising temperatures are a magnificent setting for a break to remember. For more information about travel and booking during the warm season, contact one of our travel experts today.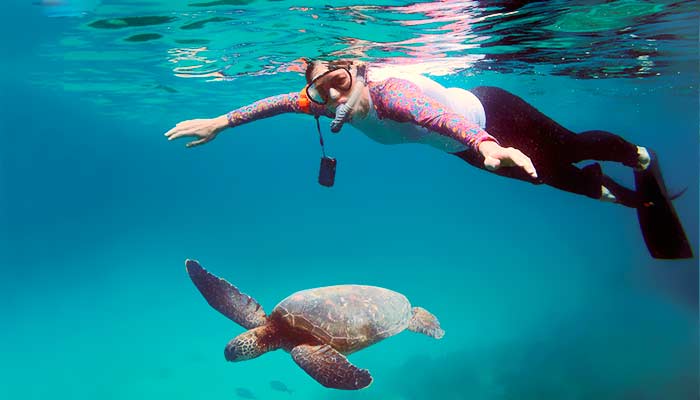 Galapagos Adventure…