While planning this once-in-a-lifetime trip it's important to keep these Galapagos travel tips in mind!
1. Have $120 in cash to enter the National Park
To enter the Galápagos Islands you must pay a $20 transit card fee (in cash) in either the Quito or Guayaquil airport, which is essentially your visa to enter the Islands. Once you land in the Galapagos you will then pay a $100 park fee (in cash).
These fees go to the efforts to conserve and protect the Galapagos Islands as it is a fragile environment and ecosystem that is being constantly monitored by park authorities.
Most, if not all, tours do not include these fees in their tour packages, since it's a lot easier for you to do it yourself once in the country.
2. Bring lots of sun protection
When you visit the Galápagos, you will be located right on the equator, and no matter the time of year or the season, the sun will be strong, and you will burn quicker.
The dry season is characterized by cooler air and water temperatures and misty clouds covering the skies. Although the sun will not be direct, its rays are still strong and you can still get burned.
The wet season is characterized by warmer air and water temperatures as well as almost daily short rains and clear sunny skies, so the suns rays will be direct.
So, bring lots of sunscreen, a hat, sunglasses, and wear light long pants and light long sleeve shirts if you have them.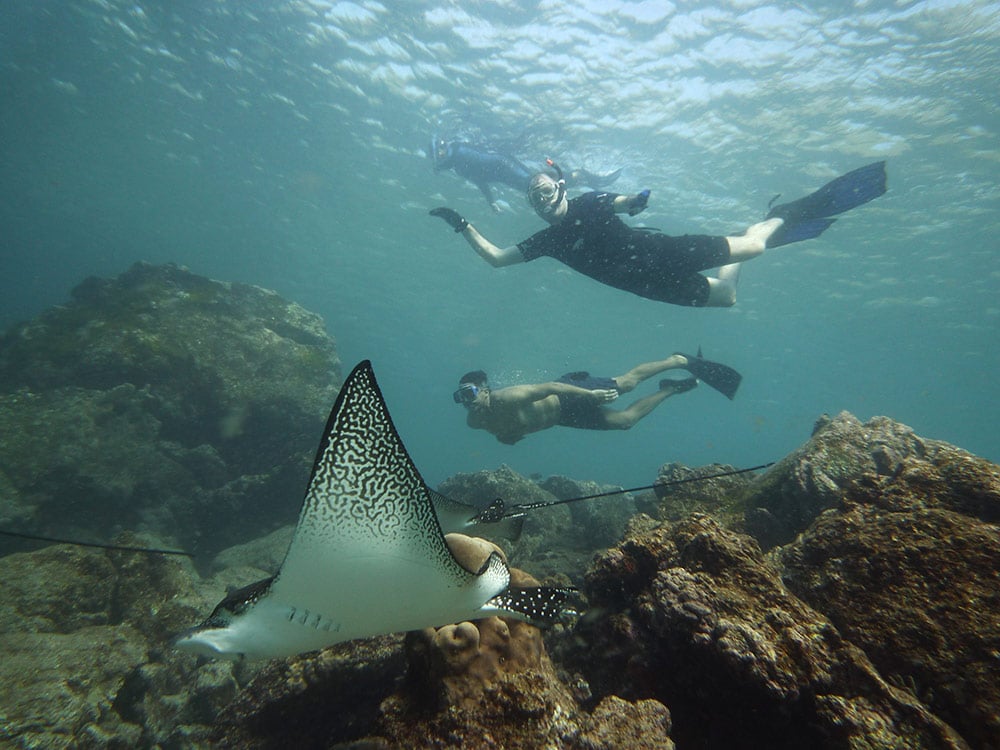 In the Galapagos the underwater world is just as amazing as the island life. You can expect some of the following water activities based on the type of tour you choose: 
Swimming 
Snorkeling 
Kayaking
Paddle boarding
Diving
The types of activities offered depends on the type and category of your tour. Normally, the higher the category of the tour (luxury and first-class tours), the more types of activities they will offer, and diving will only be offered on diving tours.
Some tours will provide wetsuits, and snorkel gear, but check the details of your tour before you leave so you can be sure.
For diving tours, equipment may be provided, but sometimes using your own gear that you're comfortable with will make your experience better and you don't have to worry about that.
Be sure to bring 3-4 bathing suits so you can always have a dry one on hand, as you might be doing 1-2 water activities everyday depending on the type of tour you choose.
4. It will be hot during the day and chilly at night
Temperatures on the islands can change throughout the day, but since Galapagos is located on the equator the weather does not change too much throughout the year.
Normally it will be hot during the day and a little cold at night, so it's a good idea to bring lighter clothes for the day, and a sweater or two for the night.
For most people, a trip to the Galapagos Islands is the trip of a lifetime. 
It's very common to see people plan at least a year in advance, as that's when spaces start filling up. 
So, if you want to find your perfect tour, plan early and don't wait.
It is also suggested that you purchase travel insurance in case of anything unexpected happening before or during your trip.
The wildlife and island landscapes are famous for a reason. Everyday you'll take hundreds of pictures, and 10 that might even be good enough to be in a professional nature magazine, so bring your best camera and be sure to play with it and test it out before arriving.
If you have an underwater camera, bring that too, as you're likely to be swimming with sea turtles, sea lions, sharks, penguins, and hundreds of unique colorful fish.
7. Choosing to travel Galapagos by boat or on land
The first hard question to ask yourself about your travel plans is whether you want to be on a small boat or stay in a hotel. There are a few factors you have to consider.
On a small boat, you will see more remote islands and more species of wildlife, but be sure to take precautions if you are prone to seasickness. 
With a hotel tour your visits will be more flexible and you'll have time to explore the local towns at night.
If it's difficult to choose which tour is best for you, consider choosing both! Ask one of our trip advisors at Galapagos Travel Center to help you find your perfect tour and access some last minute deals and promotions!
8. Keep in mind the limited cell service and WiFi on the Islands
Service is very limited when you are traveling throughout these remote islands, and service in the towns is satellite, so it's not the best.
Use this time to reconnect with the beautiful natural world you have around you, your real life stresses will be waiting for you when you get home, don't worry about them when you should be enjoying yourself!
9. Your days will be busy
This trip of a lifetime is jam packed with many activities to make the most of your trip, so we recommend that you do it all (if you are able)! Most day trips will consist of early mornings, late nights, and little time to rest, but we promise it's worth it. So be sure to have a free day after your trip to rest up!
When exploring the islands be present in every moment — with the animals, with the land, and with your family and friends — so you can really enjoy and appreciate the amazing world we have the privilege to live in.
If you have any additional questions, ask our team of Galapagos experts now about personalizing your dream Galapagos vacation!