Amazon Tours
(click here)
Ecuador Tours
(click here)
Ecuador & Peru Packages
(click here)
Hoteles & Haciendas
(click here)
Call the Galapagos Experts. TOLL FREE!
1-877-667-7445
0800-051-3847
02-8005-8069
0366-2845-3321
097-0445-277
022-575-2078
+593-2-2527-026
Free Trip Planning
Office hours are 9am-5pm. Mon-Fri. GMT -5hrs. Eastern Time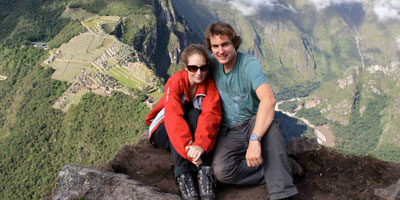 Machu Picchu & Peru
Peru is a land of extremes - from lush, towering Andean peaks to rolling sand dunes on the Peruvian coast, to the largest, most diverse rainforest in the world, the Amazon rainforest. Peru is also rich in pre-Colombian culture with millions of citizens in the Andes Mountains who still live, speak and work the way their ancestors did thousands of years ago.
Peru is situated on the Pacific coast of South America between Ecuador and Bolivia and west of Brazil. The Amazon makes up half of Peru, the Andes Mountains occupy a third and the rest is coastal desert.
Some things not to miss on your trip to Peru:
Cusco, The Sacred Valley, Machu Picchu, and the Inca Trail offer a glimpse into the mysterious and fascinating history of the Incas. Many other lesser known but equally breathtaking trekking opportunites and cultural experiences await in Peru's Sacred Valley.
Lake Titicaca is the world's highest navigable lake spanning from Peru to the border of Bolivia with over 30 islands, some inhabited, with cultures dating back to the pre-Colombian era.
Lima, the capital city, claims some of Peru's best museums, including one of the largest in South America.
Arequipa is a stunning town located at the base of the beautiful valley of El Misti volcano. It offers a relaxed, romantic environment complete with colonial charm and rich cultural heritage.
Featured tours to Peru:
Organized Peru tours are available to a wide range of attractions, landscapes, climates, and cultures. There are many reputable agencies that offer a number of excursions, from scenic day trips to Lake Titicaca- the world's highest navigable lake- to mystical multi-day hikes through Machu Picchu and along the Inca trail. Peruvian Amazon tours explore one of the most bio-diverse areas of the planet and highlight the unique flora and fauna in the rainforest, while Andes trips will take you high into the picturesque peaks.
There are trips for every spirit of traveler. A wide range of itineraries means there is something to fit your interests, timeframe and budget. Tours can easily be booked internationally or in all major cities once in Perú.
CONTACT US TODAY!
Call us Toll Free
Local Number
Send us an Mail
1-877-986-6435
407-412-9215
*Office Hours: Monday to Friday 9am to 6pm - GMT -5hrs. Eastern Time
PH (VTA)-- 30-Jul-2015