Galapagos Islands Weather
While average temperatures range from high 80's (ºF) to the mid 60's (ºF) throughout the year, the two Galapagos seasons are mostly determined by trade winds and ocean currents.
The cool and misty season, known as the "Dry Season", features cooler temperatures, misty foggy highlands, and arid landscapes in the lowlands. The warm/rainy season, also known as the "Wet Season", offers tropical warmer temperatures and periodic rains that transform the islands with lush and green from sea level to the highlands.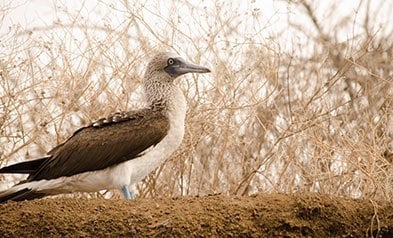 Galapagos Dry Season (cool & misty)
From July to December (approximately), the southern trade winds bring the cold Humboldt Current to Galapagos and with it, cooler days, cooler water temperatures and blue skies. The highlands of the larger islands have a persistent misty fog known as Garua that keeps them lush and green, while shorelines and islands closer to sea level have little precipitation or a few midday showers.
During this season, tourists may observe a rich variety of species around the islands and in the sea such as giant tortoises, humpback whales, blue-footed boobies, cormorants, oystercatchers, lava lizards, Galapagos hawks, masked boobies, swallow-tailed gulls, sea lions, lava herons, brown noddies, and penguins. While water visibility may be decreased, the currents and winds bring tons of ocean life, making it the perfect time for diving.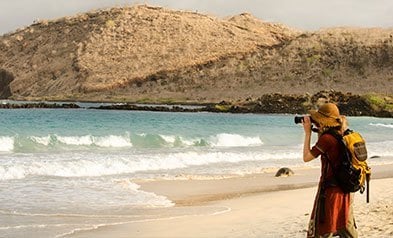 Galapagos Wet Season (warm & rainy)
The time period between December and June (approximately), is known as the wet or warm season in Galapagos. During this season, the climate in the Islands is more "tropical" with daily rain and cloudier skies. The northern Panama Current heats the water temperature and this causes hot days with periodic rains that often clear up by the evening. Ocean conditions are calmer during the wet season resulting in excellent underwater visibility and with a warmer water temperature, swimming and snorkeling can be more enjoyable.
During this wet/rainy season, lush green leaves and landscapes provide an abundance of food for many land animals. Tourists may observe a large number of species around the islands such as marine iguanas, sea turtles, land iguanas, flamingos, white-cheeked pintails, masked boobies, albatross, and blue-footed boobies.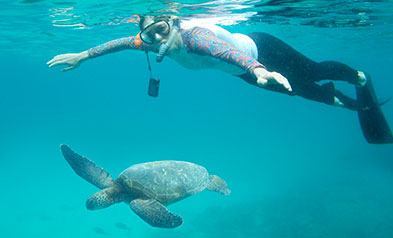 Galapagos Weather for Divers
The Humboldt Current's influence brings cold waters especially during the misty, cool season (cool & dry weather) from July to December approximately. Natural Ocean occurrences like the Panama Current and "El Niño", bring warm waters to the Galapagos and will make the surface warmer and rainfall increase (December to June approximately).
The water temperature varies during the year.
December to June:
from 70°F (21°C) to 80°F (27°C)
July to November:
from 65°F (18°C) to 75°F (23°C)
• View our Galapagos Diving Tours