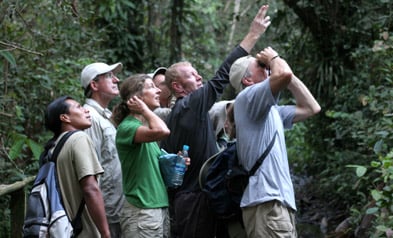 Clothing & Laundry
Lightweight pants and long sleeved cotton shirts are ideal for walks in the forest. Short-sleeved shirts can be worn with insect repellent. During a rainstorm, ponchos are recommended over full waterproof clothing, as it is warm and you will sweat a lot. Comfortable shoes (or sandals), shorts, and t-shirts are recommended for your stay. Please check our recommended packing list.
Laundry services may or may not be provided by your lodge, please check the details of your trip to plan accordingly.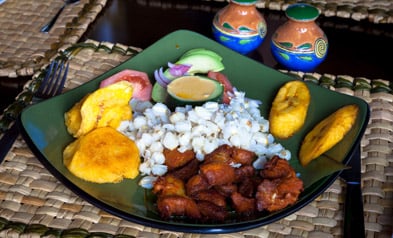 Meals & Beverages
Lodge chefs are more than happy to prepare vegetarian, vegan, or other specialized meals for you upon request. Please make sure to advise your travel agent of any dietary requirements before you travel.
All lodges include meals except for alcoholic drinks, which are usually not included, however please check with your specific lodge for any exceptions.
Water in the lodges is purified, tested regularly, and safe for consumption.
Combining an Amazon Tour with your Galapagos Cruise
When traveling Galapagos it's important to be...
Dedicated. The Galapagos Islands are extremely remote, so it takes a dedicated traveler to get there in the first place.
An animal lover. Galapagos is like a zoo without walls, as it is known for its unique and fearless wildlife.
Adventurers. The Galapagos are not for those who want to relax on a beach; this "off the beaten path" destination is rugged, challenging, and above all, fun.
So if you're an adventurous, wildlife-loving traveler who's not afraid to go out their way to see something really special, I've got some great news for you! Ecuador is not only home to the legendary Galapagos Islands, but also the deep green jungle of the Amazon rainforest. A trip extension into the rainforest is easy to arrange and is the perfect complement to your Galapagos journey.
The Amazon is the largest tropical rainforest in the world and is home to a significant percentage of the world's wildlife and plant species. The forest teems with life, from the leaf-cutter ants on the ground to the parrots in the air. A single hectare of Amazon rainforest may be home to thousands of different species of plants, hundreds of insects and dozens of reptiles, amphibians and mammals. The Ecuadorian rainforest in particular is home for many birds: of the 9,000 or so birds that are known to science, some 1,500 of them are native to Ecuador.
The rainforest itself is a dense, living jungle. The rivers are fast, the air is humid and the thick green canopy dims the sunlight. The abundance of life makes for intense competition: plants grow on top of one another, clamoring for sunlight. Drop a banana peel on the ground and it will be gone within hours, carried off by ants and beetles for food. The treetops are alive with birds, monkeys and butterflies. Timeless cultures such as the Achuar people still live, hunt and fish the same way they have for millennia.
Ecuador's rainforest tourism industry is well developed and known for good service. Most of the animals live deep in the jungle, far from the cities, and therefore most visitors opt for a multi-day stay at one of the many remote rainforest lodges. A minimum stay is three days/two nights, but it's better to stay a little longer and fully take in the jungle. The lodges range from fairly inexpensive thatched-roof cabins to air-conditioned luxury camps with swimming pools and internet access.
However many stars your hotel has, a day in the jungle is similar everywhere. The lodges have guides, often natives who speak Spanish and English in addition to the local dialect. The guides lead informative hikes, pointing out medicinal plants, spotting camouflaged animals and treating visitors to special jungle experiences, such as snacking on lemon-flavored ants! Guided boat and canoe rides on the rivers and lakes are also popular: at night you can often see caimans, a relative of the alligator. On guided night hikes, you may see bats, scorpions and other fascinating insects and animals!
Many lodges make a point of giving back to local communities, hoping that tourism will replace other less sustainable industries such as hunting animals and birds to sell as pets. Some of these lodges are all or partly owned by the local community and the profits go to schools and social programs. Most lodges will at the very least offer tours of local communities.
Galapagos Travel Center works only with the most reputable lodges in Ecuador. Some of these lodges have decades of experience and have provided unforgettable experiences to thousands of visitors. The lodges vary according to price, location and level of comfort: you can even book a trip on a floating hotel which cruises up and down the Napo River (a tributary to the Amazon River)!
Don't let the adventure end in the Galapagos… ask your Galapagos Travel Center representative about an extension into the mighty Amazon!