For years now, Galapagos Island cruises have done a standard eight-day voyage, divided for those who wish into a four or five day itinerary (days when passengers are picked up and dropped off count for both groups, so Mon-Fri is five days, and Fri-Mon is four days). It has been a consistent complaint of Galapagos visitors that this itinerary is not very convenient: four or five days are too short and eight days is too long (and expensive).
Good news! Starting this year, many of the Galapagos cruisers will be switching over to a 15-day circuit, divided up into six-day itineraries. The six-day itinerary will be perfect for most visitors who want to see the islands in a reasonable amount of time and not spend too much money.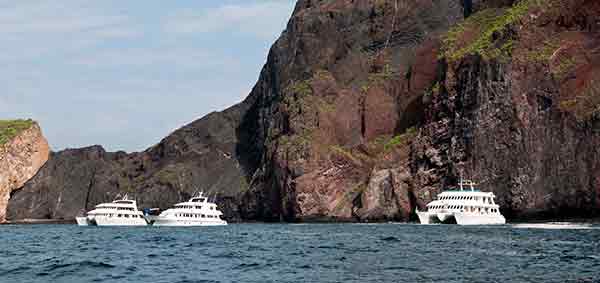 Why the Change?
This change is primarily designed to protect the islands. Currently, some of the more popular island visitor sites, such as Punta Suarez or Puerto Egas, are in danger of being destroyed by too many visitors. Now, most ships will visit these sites once every two weeks instead of every week, essentially cutting the impact in half. This move has been hailed by conservationists as one way to help reduce the wear and tear on the islands.
What's the difference?
The new two-week itineraries will be cut into three periods of six, six and five days. Of course, anyone who wants to combine the different segments and stay for 11, 12 or all 15 days is welcome to do so. Since there will still be a five-day itinerary for those who want it, essentially the eight-and four-day trips will be switched for six days.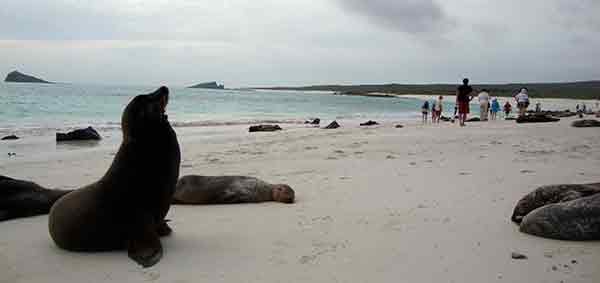 Four days is very short. Many Galapagos Island visitors wistfully write on their feedback forms that they wish they had booked a longer trip. It isn't even four days, really. If passengers arrive on a Friday, board the ship and listen to the orientation before going to a visitor's site, they then typically have only two full days to visit the islands before the Monday departure. They may miss some animals; for example, if the four-day trip is to the eastern islands, they'll miss the Flightless Cormorants and the penguins.
On the other hand, eight days is extensive. If you come in on Friday and leave on the following Friday, that's seven nights on board, which is uncomfortable for some. Due to limited vacation days and the opportunity to visit mainland Ecuador, many tourists cannot stay on the islands for eight days. Of course, an eight day cruise is a lot more expensive than a four-day cruise, so many travelers will not even have this option!
Other Benefits of the New Six-day Tour:
More visitor sites: If the Park Service is cutting back on traffic to existing visitor sites but not on the number of ships themselves, then they will necessarily have to scout, mark and open up new visitor sites. This is great not only for returning Galapagos visitors who want to see something new, but also for first timers who will have more choice of where to go and what to see.
More Ecuador: If a Galapagos trip is now six days, those who would otherwise have gone for eight will have some extra time to see mainland Ecuador, and wonders such as the Otavalo Market, Quito's historic city center, the Amazon rainforest and so much more!
The Price is Right: With numerous ships now offering similar excursions, and the expensive eight-day option gone, it should be easy for visitors to pick a cruise that suits them best for a price they can afford.
Which Cruise to Pick?
Potential visitors will have a great deal of selection when it comes to the new itineraries. Depending on your vacation time and budget, many itineraries will be available to select from.  Beginning in 2012, The Ocean Spray, a new luxury mega-catamaran, will be offering this new itinerary. The three segments of the new two-week circuit will cover the Western Islands, Central/Eastern Islands and the Northern Islands.
Talk to a trip advisor to recommend the six-day cruise that is best for you. Start exploring your cruise options now to plan your adventure of a lifetime!