Overall Rating:

Accommodation:
What is this?
Prices from: US$4,045 (8D/7N)
Book Now
Overview:
The Galaven is a 88 ft. expedition vessel for 20 passengers. It has 11 double cabins, all with private bathrooms, air-conditioning and ocean views. Galaven offers spacious outdoor seating areas with sun chairs, large interior dining room, and a library equipped with a TV & DVD player for daily briefing and presentations. Bilingual Galapagos National Park guides accompany you to all visitor sites.
Key Features:
✓ Expedition yacht
✓ Ample social areas
✓ 2 national park guides
✓ Large ccean view cabins
✓ Best value mid-range cruise
Galaven Photo gallery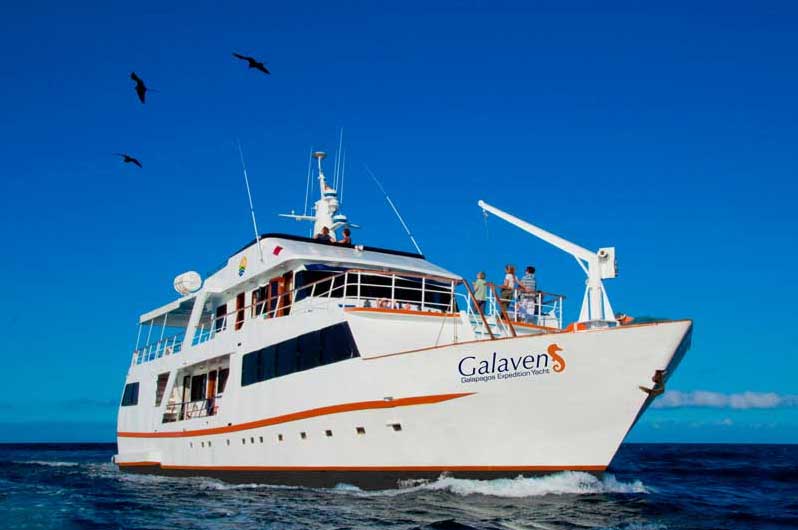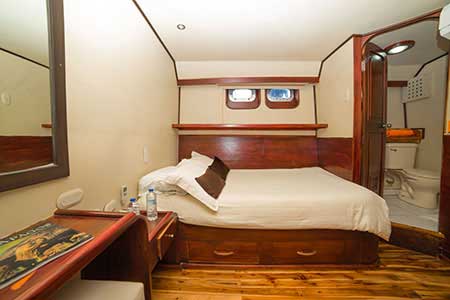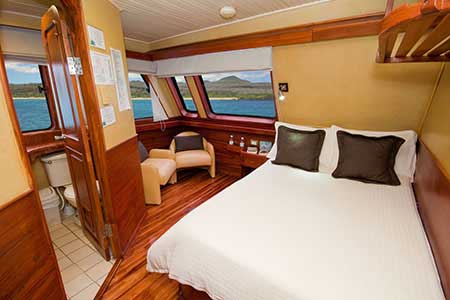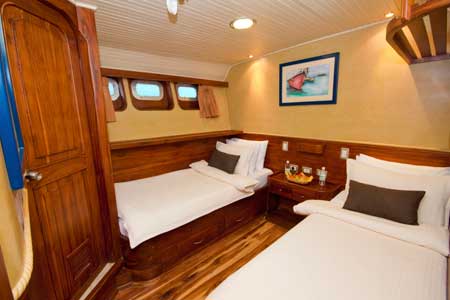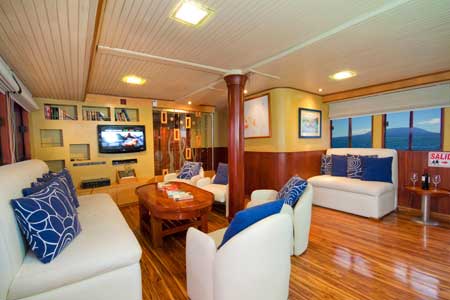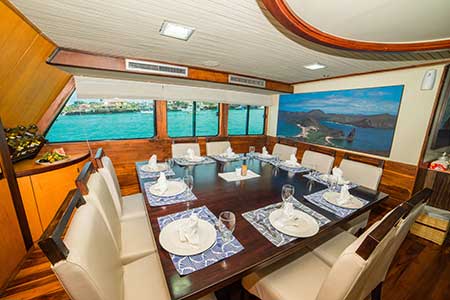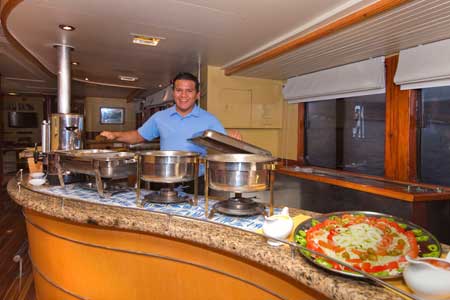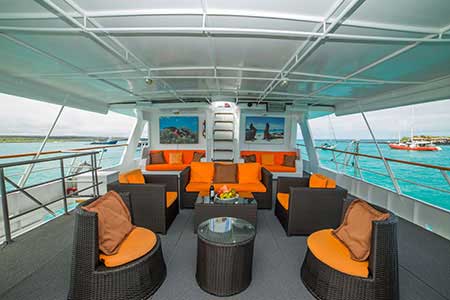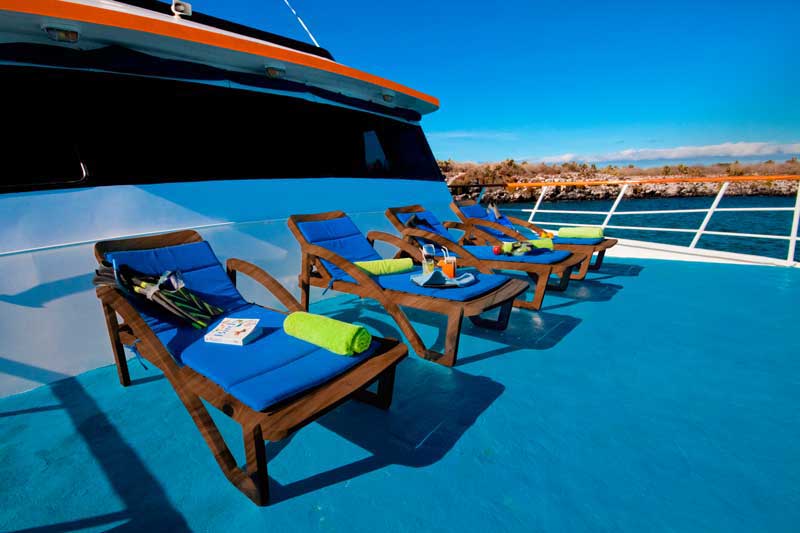 GALAVEN RATES
2017 - 2018 PRICES

4 Days

5 Days

8 Days

Standard

$ 1,945

$ 2,745

$ 4,045

Charter

$ 32,445

$ 46,445

$ 68,445
For the latest promotions on this boat and others, please click here.
All prices in United States Dollars.
Prices are subject to change without prior notice.
Additional Information
• Discount for groups of 6+ pax 10%

• Fuel surcharge $ NIL

• Christmas and New Year supplement 0%

• Single supplement 2017: 40%

• All prices in United States Dollars

• Discount for children under 12 years: 20%

• Single supplement 2018: 50%
✓ Rates Include
✓ All meals throughout cruise

✓ Transfers in the islands

✓ All excursions

✓ Bilingual National Park Guide

✓ Use of snorkeling equipment

✓ Use of Underwater Camera

✓ Free airport assistance*

✓ Free transfers*
⨯ Not Included
⨯ Ecuador-Galapagos-Ecuador airfare

⨯ Alcoholic drinks

⨯ $100 (Subject to change) Galapagos National Park entrance fee

⨯ $20 Transit Control Card

⨯ Use of wetsuit

⨯ Travel / medical insurance

⨯ Tips
TECHNICAL SPECIFICATIONS

Year of construction:

2000

Type:

Motor Yacht

Category:

Length:

88fts / 27mts

Beam:

22fts / 7mts

Capacity:

20 passengers

Accommodation:

Lower Deck: 4 double cabins (twin beds) 78ft²/ 7m² - 3 double cabins (1 double + 1 bunk beds) 75ft²/7m².
Main Deck: 2 cabin (double bed) 100ft²/9m²
Upper Deck: 2 double cabins (twin beds) 74ft²/ 7m².
All cabins with private bathrooms, hot water and air-conditioning

Max speed:

9 knots

Crew:

Captain, 2 bilingual Galapagos National Park naturalist guide, 8 crew members

Safety & Navigation:

All equipments meet / exceed the international safety standards, Life vests, GPS, Sonar, Naval radars, Fire detection and prevention systems.
GALAVEN ITINERARIES
Please ask your Trip advisor for information on 10-Day, 15-Day Cruise itineraries for this boat.
Please note: Itineraries are unlikely to change significantly but are subject to change. Weather, wildlife breeding, instructions from the Galapagos National Park, specific abilities and interests of passengers as well as operational matters may cause your guide or captain to change the time or nature of visits. Your guide will always endeavor to select the best itinerary within these limits....
GALAVEN TESTIMONIALS & REVIEWS
GALAVEN Availability
Date
Days
Avail
Hold
Sold
Promotion
AUG
22 - 25
TUE-FRI (A)
4D/3N
2
0
18
2x1

INQUIRE
AUG
29-05 SEP
TUE-TUE (B)
8D/7N
9
0
11
2x1

INQUIRE
SEP
05 - 08
TUE-FRI (A)
4D/3N
4
3
13
2x1

INQUIRE
SEP
05 - 12
TUE-TUE (A)
8D/7N
4
3
13
2x1

INQUIRE
SEP
08 - 12
FRI-TUE (A)
5D/4N
4
3
13
2x1

INQUIRE
SEP
12 - 19
TUE-TUE (B)
8D/7N
6
2
12
2x1

INQUIRE
SEP
19 - 22
TUE-FRI (A)
4D/3N
11
0
9
2x1

INQUIRE
SEP
19 - 26
TUE-TUE (A)
8D/7N
5
2
13
2x1

INQUIRE
SEP
22 - 26
FRI-TUE (A)
5D/4N
5
2
13
2x1

INQUIRE
SEP
26-03 OCT
TUE-TUE (B)
8D/7N
4
4
12
2x1

INQUIRE
OCT
03 - 06
TUE-FRI (A)
4D/3N
10
2
8
$500 OFF

INQUIRE
OCT
03 - 10
TUE-TUE (A)
8D/7N
10
2
8
$1000 OFF

INQUIRE
OCT
06 - 10
FRI-TUE (A)
5D/4N
14
0
6
$500 OFF

INQUIRE
OCT
10 - 17
TUE-TUE (B)
8D/7N
11
4
5
$1000 OFF

INQUIRE
OCT
17 - 20
TUE-FRI (A)
4D/3N
7
4
9
2x1

INQUIRE
OCT
17 - 24
TUE-TUE (A)
8D/7N
3
6
11
2x1

INQUIRE
OCT
20 - 24
FRI-TUE (A)
5D/4N
14
2
4
2x1

INQUIRE
OCT
24 - 31
TUE-TUE (B)
8D/7N
8
2
10
2x1

INQUIRE
OCT
31-03 NOV
TUE-FRI (A)
4D/3N
18
0
2
$500 OFF

INQUIRE
OCT
31-07 NOV
TUE-TUE (A)
8D/7N
11
4
5
$1000 OFF

INQUIRE
NOV
03-07
FRI-TUE (A)
5D/4N
12
4
4
$500 OFF

INQUIRE
NOV
07 - 14
TUE-TUE (B)
8D/7N
15
0
5
$1000 OFF

INQUIRE
NOV
14 - 17
TUE-FRI (A)
4D/3N
10
3
7
$500 OFF

INQUIRE
NOV
14 - 21
TUE-TUE (A)
8D/7N
8
5
7
$1000 OFF

INQUIRE
NOV
17 - 21
FRI-TUE (A)
5D/4N
11
3
6
$500 OFF

INQUIRE
NOV
21 - 28
TUE-TUE (B)
8D/7N
18
2
0
$1000 OFF

INQUIRE
NOV
28-01 DEC
TUE-FRI (A)
4D/3N
7
0
13
$500 OFF

INQUIRE
NOV
28-05 DEC
TUE-TUE (A)
8D/7N
7
0
13
$1000 OFF

INQUIRE
DEC
01 - 05
FRI-TUE (A)
5D/4N
9
0
11
$500 OFF

INQUIRE
DEC
05 - 12
TUE-TUE (B)
8D/7N
16
2
2
2x1

INQUIRE
DEC
12 - 15
TUE-FRI (A)
4D/3N
1
0
19
$500 OFF

INQUIRE
DEC
12 - 19
TUE-TUE (A)
8D/7N
1
0
19
$1000 OFF

INQUIRE
DEC
15 - 19
FRI-TUE (A)
5D/4N
1
0
19
$500 OFF

INQUIRE
DEC
19 - 26
TUE-TUE (B)
8D/7N
0
8
12
INQUIRE
DEC
26-02 JAN
TUE-TUE (A)
8D/7N
0
4
16
INQUIRE
Date
Days
Avail
Hold
Sold
Promotion
Date
Days
Avail
Hold
Sold
Promotion
JAN
02 - 09
TUE-TUE (B)
8D/7N
0
16
4
INQUIRE
JAN
30-06 FEB
TUE-TUE (B)
8D/7N
20
0
0
$500 OFF

INQUIRE
FEB
06 - 09
TUE-FRI (A)
4D/3N
18
0
2
INQUIRE
FEB
06 -13
TUE-TUE (A)
8D/7N
18
0
2
INQUIRE
FEB
09 - 13
FRI-TUE (A)
5D/4N
18
0
2
INQUIRE
FEB
13 - 20
TUE-TUE (B)
8D/7N
20
0
0
INQUIRE
FEB
20 - 23
TUE-FRI (A)
4D/3N
19
0
1
$500 OFF

INQUIRE
FEB
20 - 27
TUE-TUE (A)
8D/7N
19
0
1
$500 OFF

INQUIRE
FEB
23 - 27
FRI-TUE (A)
5D/4N
19
0
1
$500 OFF

INQUIRE
FEB
27-06 MAR
TUE-TUE (B)
8D/7N
20
0
0
$500 OFF

INQUIRE
MAR
06 - 09
TUE-FRI (A)
4D/3N
20
0
0
$500 OFF

INQUIRE
MAR
06 - 13
TUE-TUE (A)
8D/7N
20
0
0
$500 OFF

INQUIRE
MAR
09 - 13
FRI-TUE (A)
5D/4N
20
0
0
$500 OFF

INQUIRE
MAR
13 - 20
TUE-TUE (B)
8D/7N
18
2
0
INQUIRE
MAR
23 - 27
FRI-TUE (A)
5D/4N
12
4
4
INQUIRE
MAR
27-03 APR
TUE-TUE (B)
8D/7N
18
2
0
$1000 OFF

INQUIRE
APR
03 - 06
TUE-FRI (A)
4D/3N
16
0
4
INQUIRE
APR
03 - 10
TUE-TUE (A)
8D/7N
14
0
6
INQUIRE
APR
06 - 10
FRI-TUE (A)
5D/4N
14
0
6
INQUIRE
APR
10 - 17
TUE-TUE (B)
8D/7N
20
0
0
INQUIRE
APR
17 - 20
TUE-FRI (A)
4D/3N
20
0
0
INQUIRE
APR
17 - 24
TUE-TUE (A)
8D/7N
18
2
0
INQUIRE
APR
20 - 24
FRI-TUE (A)
5D/4N
18
2
0
INQUIRE
APR
24-01 MAY
TUE-TUE (B)
8D/7N
18
0
2
INQUIRE
MAY
01 - 04
TUE-FRI (A)
4D/3N
16
0
4
INQUIRE
MAY
01 - 08
TUE-TUE (A)
8D/7N
14
0
6
INQUIRE
MAY
04 - 08
FRI-TUE (A)
5D/4N
14
0
6
INQUIRE
MAY
08 - 15
TUE-TUE (B)
8D/7N
17
3
0
INQUIRE
MAY
18 - 22
FRI-TUE (A)
5D/4N
20
0
0
INQUIRE
MAY
22 - 29
TUE-TUE (B)
8D/7N
8
0
12
INQUIRE
MAY
29-01 JUN
TUE-FRI (A)
4D/3N
16
0
4
INQUIRE
MAY
29-05 JUN
TUE-TUE (A)
8D/7N
16
0
4
INQUIRE
JUN
01 - 05
FRI-TUE (A)
5D/4N
18
0
2
INQUIRE
JUN
05 - 12
TUE-TUE (B)
8D/7N
20
0
0
INQUIRE
JUN
12 - 15
TUE-FRI (A)
4D/3N
20
0
0
INQUIRE
JUN
12 - 19
TUE-TUE (A)
8D/7N
20
0
0
INQUIRE
JUN
15 - 19
FRI-TUE (A)
5D/4N
20
0
0
INQUIRE
JUN
19 - 26
TUE-TUE (B)
8D/7N
20
0
0
INQUIRE
JUN
26 - 29
TUE-FRI (A)
4D/3N
20
0
0
INQUIRE
JUN
26-03 JUL
TUE-TUE (A)
8D/7N
0
4
16
INQUIRE
JUN
29-03 JUL
FRI-TUE (A)
5D/4N
0
4
16
INQUIRE
JUL
03 - 10
TUE-TUE (B)
8D/7N
20
0
0
INQUIRE
JUL
10 - 13
TUE-FRI (A)
4D/3N
17
0
3
INQUIRE
JUL
10 - 17
TUE-TUE (A)
8D/7N
17
0
3
INQUIRE
JUL
13 - 17
FRI-TUE (A)
5D/4N
17
0
3
INQUIRE
JUL
17 - 24
TUE-TUE (B)
8D/7N
17
0
3
INQUIRE
JUL
24 - 27
TUE-FRI (A)
4D/3N
20
0
0
INQUIRE
JUL
24 - 31
TUE-TUE (A)
8D/7N
20
0
0
INQUIRE
JUL
27 - 31
FRI-TUE (A)
5D/4N
20
0
0
INQUIRE
JUL
31-07 AUG
TUE-TUE (B)
8D/7N
20
0
0
INQUIRE
AUG
07 - 10
TUE-FRI (A)
4D/3N
20
0
0
INQUIRE
AUG
07 - 14
TUE-TUE (A)
8D/7N
20
0
0
INQUIRE
AUG
10 - 14
FRI-TUE (A)
5D/4N
20
0
0
INQUIRE
AUG
14 - 21
TUE-TUE (B)
8D/7N
20
0
0
INQUIRE
AUG
21 - 24
TUE-FRI (A)
4D/3N
20
0
0
INQUIRE
AUG
21 - 28
TUE-TUE (A)
8D/7N
17
0
3
INQUIRE
AUG
24 - 28
FRI-TUE (A)
5D/4N
17
0
3
INQUIRE
AUG
28-04 SEP
TUE-TUE (B)
8D/7N
20
0
0
$500 OFF

INQUIRE
SEP
04 - 07
TUE-FRI (A)
4D/3N
16
4
0
$500 OFF

INQUIRE
SEP
04 - 11
TUE-TUE (A)
8D/7N
16
4
0
$500 OFF

INQUIRE
SEP
07 - 11
FRI-TUE (A)
5D/4N
20
0
0
$500 OFF

INQUIRE
SEP
11 - 18
TUE-TUE (B)
8D/7N
20
0
0
$500 OFF

INQUIRE
SEP
18 - 21
TUE-FRI (A)
4D/3N
20
0
0
INQUIRE
SEP
18 - 25
TUE-TUE (A)
8D/7N
20
0
0
INQUIRE
SEP
21 - 25
FRI-TUE (A)
5D/4N
20
0
0
INQUIRE
SEP
25-02 OCT
TUE-TUE (B)
8D/7N
20
0
0
INQUIRE
OCT
02 - 05
TUE-FRI (A)
4D/3N
20
0
0
INQUIRE
OCT
02 - 09
TUE-TUE (A)
8D/7N
20
0
0
INQUIRE
OCT
05 - 09
TUE-TUE (A)
5D/4N
20
0
0
INQUIRE
OCT
09 - 16
TUE-TUE (B)
8D/7N
20
0
0
INQUIRE
OCT
16 - 19
TUE-FRI (A)
4D/3N
20
0
0
INQUIRE
OCT
16 - 23
TUE-TUE (A)
8D/7N
20
0
0
INQUIRE
OCT
19 - 23
FRI-TUE (A)
5D/4N
20
0
0
INQUIRE
OCT
23 - 30
TUE-TUE (B)
8D/7N
19
0
1
INQUIRE
OCT
30-02 NOV
TUE-FRI (A)
4D/3N
20
0
0
$500 OFF

INQUIRE
OCT
30-06 NOV
TUE-TUE (A)
8D/7N
20
0
0
$500 OFF

INQUIRE
NOV
02 - 06
FRI-TUE (A)
5D/4N
20
0
0
$500 OFF

INQUIRE
NOV
06 - 13
TUE-TUE (B)
8D/7N
20
0
0
INQUIRE
NOV
13 - 16
TUE-FRI (A)
4D/3N
20
0
0
INQUIRE
NOV
13 - 20
TUE-TUE (A)
8D/7N
20
0
0
INQUIRE
NOV
16 - 20
FRI-TUE (A)
5D/4N
20
0
0
INQUIRE
NOV
20 - 27
TUE-TUE (B)
8D/7N
20
0
0
INQUIRE
NOV
27 - 30
TUE-FRI (A)
4D/3N
20
0
0
$500 OFF

INQUIRE
NOV
27-04 DEC
TUE-TUE (A)
8D/7N
20
0
0
$500 OFF

INQUIRE
NOV
30-04 DEC
FRI-TUE (A)
5D/4N
20
0
0
$500 OFF

INQUIRE
DEC
04 -11
TUE-TUE (B)
8D/7N
16
0
4
INQUIRE
DEC
11 - 14
TUE-FRI (A)
4D/3N
20
0
0
$500 OFF

INQUIRE
DEC
11 - 18
TUE-TUE (A)
8D/7N
20
0
0
$500 OFF

INQUIRE
DEC
14 - 18
FRI-TUE (A)
5D/4N
20
0
0
$500 OFF

INQUIRE
Date
Days
Avail
Hold
Sold
Promotion
AC(VTA) - Apr-2016