Take our Galapagos Cruise Quiz!
GALAPAGOS HOTEL AND LODGING OPTIONS
Galapagos Hotels: What you need to know
Can you book a hotel in the Galapagos? It used to be that those travelers who wanted to see the Galapagos Islands in comfort and style had to book a cruise on a cruise ship or yacht, as Galapagos hotels were overpriced and unimpressive, but this this is no longer the case, and there are now a variety of hotels to choose from for your Galapagos vacation.
With tourism services improving in the Galapagos, there are now many fine hotels to choose from on four different islands, and many visitors are choosing to sleep on land and take day trips to the visitor sites.
Not so long ago, there were relatively few hotels in the islands, but the recent tourism boom has led to an increase in hotels, restaurants, travel agents and other visitor services.
Hotels by Island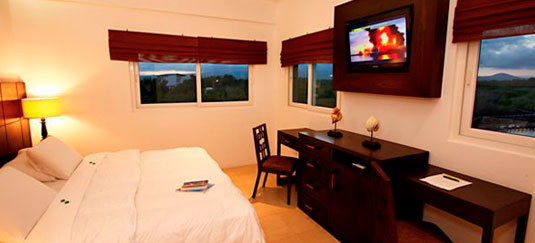 Search Hotels by Name
Use the dropdown menu below to find the Galapagos hotel you are looking for:
How to choose the hotel that's best for you?
Hotels in the Galapagos Islands are much pricier than they are in mainland Ecuador. Expect to pay at least double what you would pay for a similar hotel in Quito. The cheapest hotels charge at least $20 per person per night, and the most expensive charge hundreds. Request a call back and talk to one of our expert trip advisor about Galapagos hotels.
Services to look for:
Air Conditioning: The days get very hot in Galapagos; air conditioning is a must during most of the year. Most hotels have it, but not all, and some advertise it but the service is sporadic. The cheapest hotels will often have electric fans as an alternative.
Internet: The most modern hotels will have Wi-Fi and free internet for guests. Look for this if you use the internet much, because the internet cafes in town are pricey and unreliable.
Ocean View: A nice thing about Galapagos cruises is the time on the water and the constant view of the ocean. Many hotels, especially the more high-end options, offer ocean view rooms upon request.