Galapagos Hotel and Lodging Options
The Galapagos archipelago not only offers the opportunity to be visited aboard a cruise, but also allows you to stay in hotels in one, or more of its inhabited islands. They enable you to share the local customs while relaxing on land, and are carefully chosen by GalapagosIslands.com to guarantee excellent service and the best experience for you:
Which hotel is best for me?
Regardless of the islands where you decide to stay, you will have a wide range of hotels according to its category. Therefore, more than a question of which hotel is best for you, what you need to consider is which visitors sites do you want to visit. Consequently, we would highly recommend taking our free advisory from one of our travel experts.
Combine the uniqueness of the Galapagos Islands with the accommodation and services provided by the Galapagos hotels, and you have a vacation unparalleled by any other.
A Galapagos hotel, suggested by out Galapagos Experts will guarantee the best services and accommodation in its own category, helping you have a fantastic place to rest while touring the Galapagos.
7 things to know before traveling to the Galapagos Islands.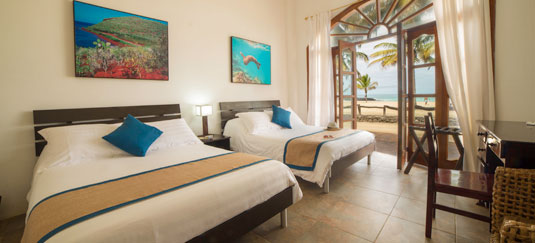 Amenities and comfort
Despite the Galapagos being away from the mainland, the tourism infrastructure is well prepared to offer guests the comfort they deserve; like air conditioning, exquisite food, nearby restaurants and visitor sites.
Air Conditioning: The days get very hot in Galapagos; air conditioning is a must during most of the year. Most hotels have it, but not all, and some advertise it but the service is sporadic. The cheapest hotels will often have electric fans as an alternative.
Ocean View: A nice thing about Galapagos cruises is the time on the water and the constant view of the ocean. Many hotels, especially the more high-end options, offer ocean view rooms upon request.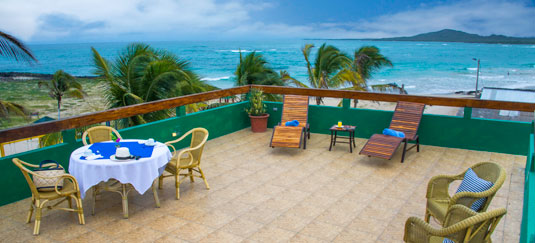 Location
Most upscale hotels are located in the outskirts of the inhabited parts of the islands. Therefore transportation to the main town might be necessary. Apart from having a more tranquil environment, these hotels offer all the services you may require.
On the other hand, many inns and hotels found in town offer the possibility to live a wider cultural experience and do a variety of things to enjoy within a walking distance from your stay.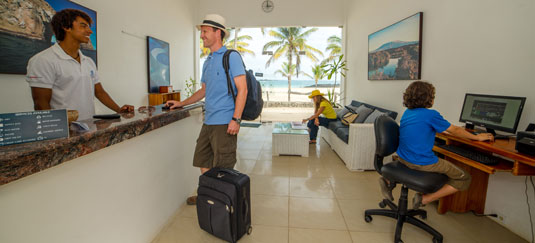 Internet Service
Internet in the Galapagos is provided via a satellite connection, which does not allow to have a fast or stable signal. However, most of the hotels in town will provide WiFi service to their guests.
The most modern hotels will have Wi-Fi and free internet for guests. Look for this if you use the internet much, because the internet cafes in town are pricey and unreliable.