TREASURE OF GALAPAGOS CATAMARAN
What is this?
Prices from:

US$

3,595

(5D/4N)
Book NOW
Overview:
An eclectically styled yacht, the Treasure of the Galapagos fuses subtle art deco elements with contemporary ones. This yacht has a host of facilities to be enjoyed in relaxed and luxurious surroundings. The yacht accommodates 16 passengers, offering a suite with two balconies and eight double outside cabins each with a balcony. All rooms have a private bathroom, hot water, air-conditioning, vanity dressers and security boxes.
Key Features:
✓ Naturalist guide level III
Treasure of Galapagos Photo gallery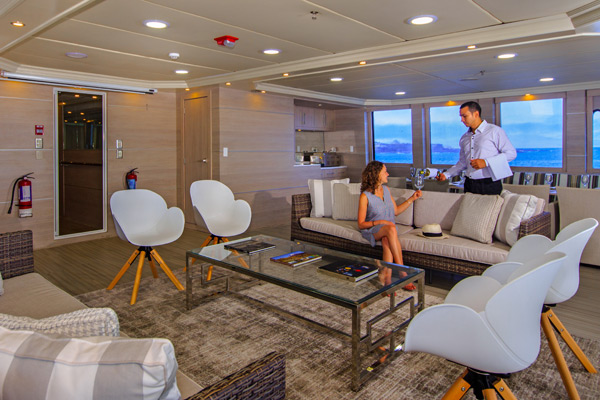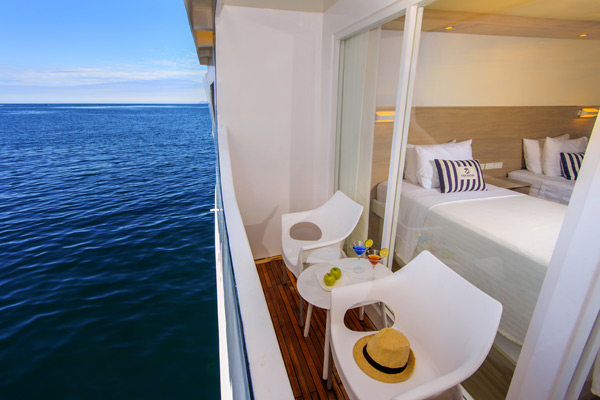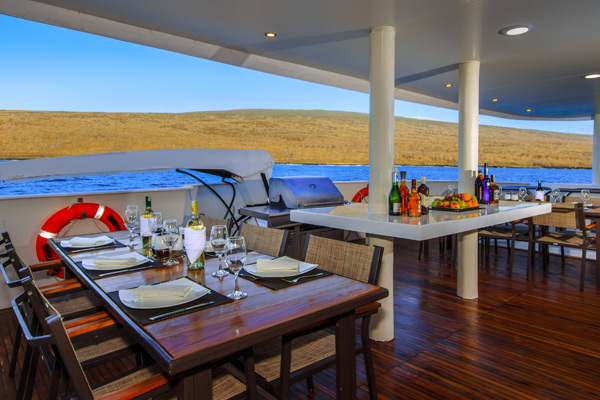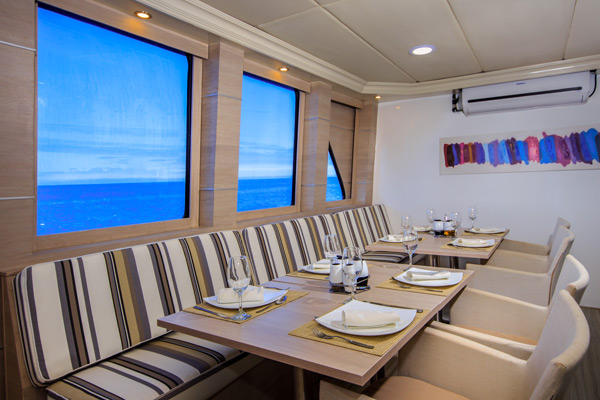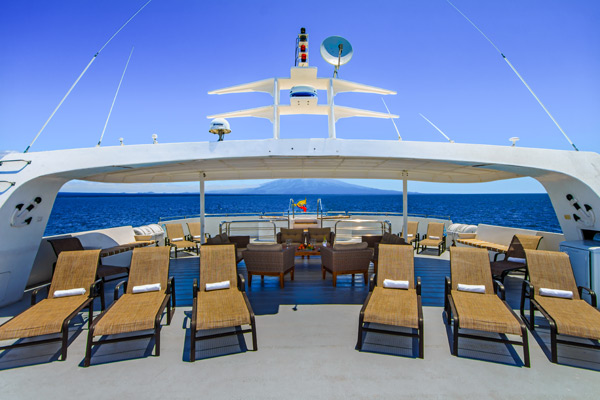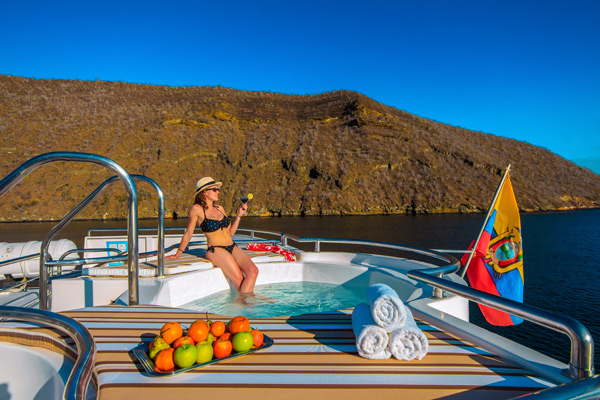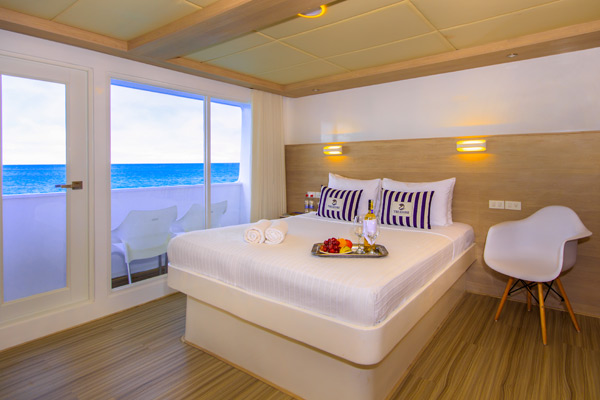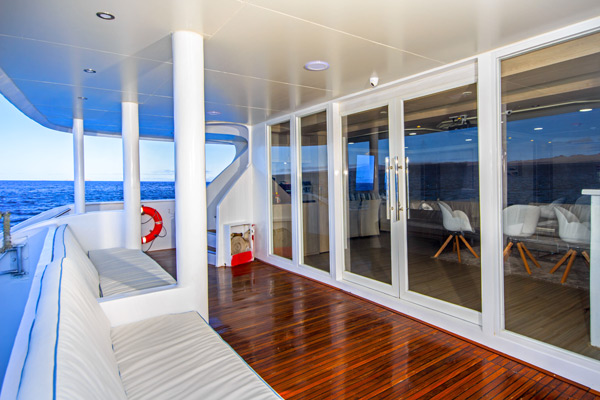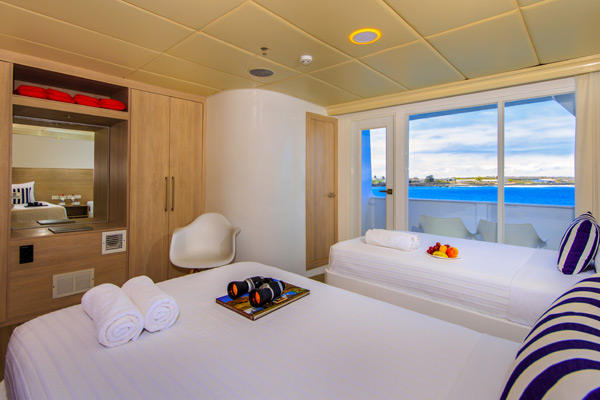 TREASURE OF GALAPAGOS RATES
2020 PRICES

5 Days

7 Days

9 Days

Master Suite

$ 4,494

$ 6,494

$ 7,189

Balcony Stateroom

$ 3,595

$ 5,195

$ 8,988

Charter

$ 57,518

$ 83,120

$ 115,040
For the latest promotions on this boat and others, please click here.
All prices in United States Dollars.
Prices are subject to change without prior notice.
Additional Information
• Single Supplement: 25 % surcharge with a maximum of 2 single cabins departure

• Children under 12 years old: 20% off. Not applicable for last minutes

• The Master suite can be booked as a triple with a 15% surchage per person

• Different rates on peak season (Dec 21- 4 Jan )
✓ Rates Include
• All meals and activities throughout the cruise

• Bilingual national park guide

• Watter, coffe and tea

• Snorkeling gear (mask, snorkel and fins)

• Matrimonial/twin cabins with private facilities

• Fuel Surchage
⨯ Not Included
• $100 (Subject to change) Galapagos National Park entrance fee

• $20 Transit Control Card

• Soft and alcoholic beverages consumed onboard

• Personal expenses, extras and tips

• Cancellation/medical insurance

• Wetsuit

• Diving

TREASURE OF GALAPAGOS DECK PLANS
TECHNICAL SPECIFICATIONS

Year of construction:

2009

Type:

Catamaran

Category:

★★★★

Length:

101ft / 31m

Beam:

36.75ft / 11.20m

Capacity:

16 passengers

Acommodation:

Main Deck: Suite : 1 Master Suite : 4
Upper Deck: Master Suite : 4

Draft:

S/N

Main engines:

2 motors 385 HP Caterpillar, 2 Generators 75KW,

On Board:

Cruise Manager, DVD / TV, Hairdyer, Jacuzzi, Laundry, Library, Private Balconies, Snorkeling equipment

Water maker:

127

Max speed:

11 knots

Crew:

8 members plus 1 hotel manager and 1 naturalist guide level II

Safety & Navigation:

All equipment according to the international SOLAS standard: 1x 25 and 1 x 20 man life craft, Foruno, 2 GPS, sonar, 2 naval radars, fire detection and prevention systems etc.
TREASURE OF GALAPAGOS ITINERARIES
Please note: Itineraries are unlikely to change significantly but are subject to change. Weather, wildlife breeding, instructions from the Galapagos National Park, specific abilities and interests of passengers as well as operational matters may cause your guide or captain to change the time or nature of visits. Your guide will always endeavor to select the best itinerary within these limits....
TREASURE OF GALAPAGOS CRUISE REVIEWS
Cruise rating:
4
/5 -
6
customer reviews
Hello Lilian,

Greetings from Elke and Iris just to let you know that we had a wonderful time in Galapagos. Everything was fine and we received the documents (Service voucher) on time at the Office like you assured us.

The trip was good, the guide picked us up at Baltras airport - the Catamaran was the BEST. Better we could have imagined. We would love to go back, if possible today! Hopefully we have a second chance to visit Galapagos!

Thank you for your help and assistance in all the preparation! Greetings to your Team!

Iris Rauscher & Elke Cyliax
October 2014
Christina,

Just wanted to let you know we had a wonderful trip. Thank you. We stopped to see you while at Nu House, but you weren't there. All worked just great. We loved the 'Treasure" and its crew. The only thing we would skip next visit would be the noise at Nu House :)

Thanks again

Lynn Heller
April 2014
Dear Lorena,

We just returned yesterday and had a wonderful time. the ship personnel were extremely helpful and took great care of us. the guide Harry was very good. we had the best time ever thank you thank you. The boat was excellent and we couldn't have asked for anything else. It was a grand time.

Fun Fun Fun!!!! We hope to come again sometime. The snorkeling was top notch, the food was great, the wildlife sightings were awesome. It worked out great the boat had balconies as my dad and another older gentleman on the second half the week stayed behind at times and could see lots of marine wildlife when the excursions were to hard for them. The crew made sure everyone had a great time.

Thanks a million.
kindest regards

Randy Voight
March 2015
Hello Lilian,

Greetings from Elke and Iris just to let you know that we had a wonderful time in Galapagos. Everything was fine and we received the documents (Service voucher) on time at the Office like you assured us.

The trip was good, the guide picked us up at Baltras airport - the Catamaran was the BEST. Better we could have imagined. We would love to go back, if possible today! Hopefully we have a second chance to visit Galapagos!

Thank you for your help and assistance in all the preparation! Greetings to your Team!

Iris Rauscher & Elke Cyliax
January 2020
Christina,

Just wanted to let you know we had a wonderful trip. Thank you. We stopped to see you while at Nu House, but you weren't there. All worked just great. We loved the 'Treasure" and its crew. The only thing we would skip next visit would be the noise at Nu House :)

Thanks again

Lynn Heller
January 2020
Dear Lorena,

We just returned yesterday and had a wonderful time. the ship personnel were extremely helpful and took great care of us. the guide Harry was very good. we had the best time ever thank you thank you. The boat was excellent and we couldn't have asked for anything else. It was a grand time.

Fun Fun Fun!!!! We hope to come again sometime. The snorkeling was top notch, the food was great, the wildlife sightings were awesome. It worked out great the boat had balconies as my dad and another older gentleman on the second half the week stayed behind at times and could see lots of marine wildlife when the excursions were to hard for them. The crew made sure everyone had a great time.

Thanks a million.
kindest regards

Randy Voight
January 2020
» View more cruise reviews
MC(VTA) - Mar-2020