Overview:
The 16-passenger Aida Maria offers a great combination of comfort and style without sacrificing the savings account! Each of the eight air-conditioned double cabins has a private bathroom with a hot and cold water shower. On board, there is a spacious deck to enjoy the sunny Galapagos days. An experienced naturalist guide will lead all of your land excursions, which are well organized into four, five, or eight-day itineraries. The Aida Maria offers a great value and a reasonable price.
Key Features:
✓ Air-conditioned cabins
✓ Private bethrooms
✓ Comfortable sundeck
✓ Experienced naturalist guide
✓ Available for private charter
Search for Cruise Availability:
Aida Maria Photo gallery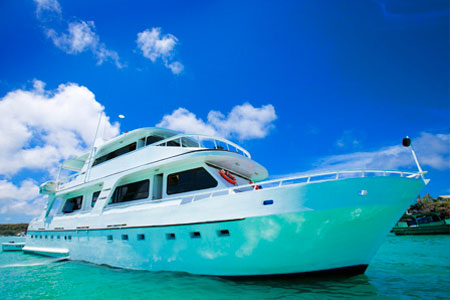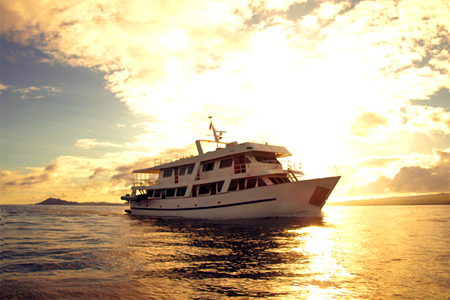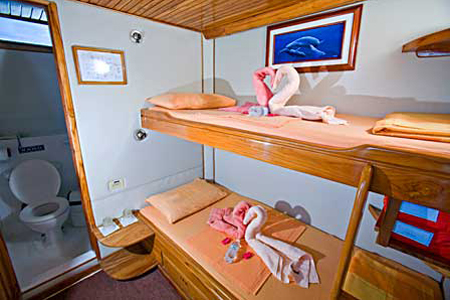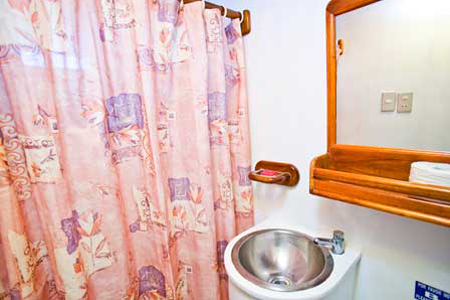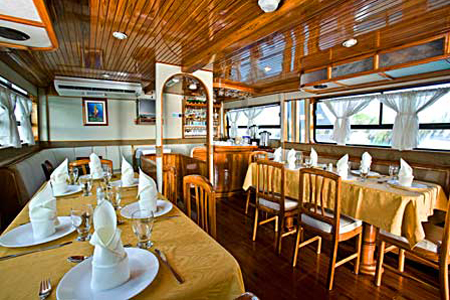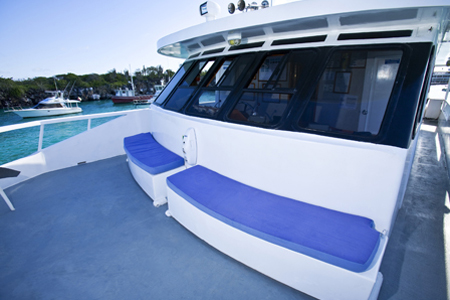 AIDA MARIA RATES
* For rates information please ask your Trip advisor.
For the latest promotions on this boat and others, please click here.
All prices in United States Dollars.
Prices are subject to change without prior notice.

TECHNICAL SPECIFICATIONS

Year of construction:

1996

Type:

Motor Yacht

Category:

★★★

Length:

66fts ( 20mts)

Beam:

24fts ( 7mts)

Capacity:

16 passengers

Acommodation:

Main Deck: Standard: 2
Upper Deck: Standard: 2
Lower Deck: Standard: 4
Sun Deck:

Draft:

S/N

Main engines:

Engines: 9 knots / 2 CAT 125 hp each

On Board:

DVD / TV, Hairdyer

Max speed:

7 knots

Crew:

Captain, cook, machinist, bartender, 2 sailors and 1 naturalist guide

Safety & Navigation:

Complete navigation and safety equipment, 2 dinghies with 16 hp outboard motor
AIDA MARIA ITINERARIES
Please note: Itineraries are unlikely to change significantly but are subject to change. Weather, wildlife breeding, instructions from the Galapagos National Park, specific abilities and interests of passengers as well as operational matters may cause your guide or captain to change the time or nature of visits. Your guide will always endeavor to select the best itinerary within these limits....
AIDA MARIA CRUISE REVIEWS
Cruise rating:
3
/5 -
5
customer reviews
Hi Veronica,

Our trip went very smoothly and we had an amazing time. The Hotel Vieja Cuba was charming, staff attentive and breakfast delicious. Also the Aida Maria and its crew were great, as well as the food. Our nature guide Ruben was very knowledgeable and friendly. Thank you for booking us this terrific trip. We do hope to return to see more of the Galapagos and I will contact you.

Thanks again,

Amanda Francin
May 2015
Jessica,

Cruise went perfect.

The guide Franklin was fabulous. Crew looked after us 24/7...really good. Food was varied and interesting. We couldn't have gone without the wetsuits and Franklin took all respoonsibility for mailing them back.

Thank you for all your help and direction. The only thing I didn't know was how rough the sea was and I had to up my doses of motion sickness meds to cover it.

Sincerely

Sandi
September 2012
Dear Daniela - thank you for your email. I just returned to my Boise, Idaho home yesterday afternoon and I was planning on emailing you as soon as I got settled back in. I want to let you know that my Ecuador, Galapagos, and Peru adventures were very rewarding and a perfect adventure for me.

Your assistance in the planning and arranging all of the details made the trip very easy and comfortable. The time with Anna Maria for my first tour to the hot springs was just what I needed to begin my travels in Ecuador and the Galapagos. Once Kelly arrived we were able to get around Quito and enjoyed our time there.

We got to the islands without any problems and met Thomas the day before our cruise began. The cruise was wonderful and we had loads of fun with the guide and the crew on the boat. Once the cruise was over, I made my way to Peru and from the moment I walked out of the airport the company that you secured for my 'solo trip' were always on time and very helpful. I never felt like I would have any problems and I didn't.

Thank you again so very much for all that you did to make our adventure a very memorable one.

Brenda Breidinger
March 2019
Hi Veronica,

Our trip went very smoothly and we had an amazing time. The Hotel Vieja Cuba was charming, staff attentive and breakfast delicious. Also the Aida Maria and its crew were great, as well as the food. Our nature guide Ruben was very knowledgeable and friendly. Thank you for booking us this terrific trip. We do hope to return to see more of the Galapagos and I will contact you.

Thanks again,

Amanda Francin
January 2020
Jessica,

Cruise went perfect.

The guide Franklin was fabulous. Crew looked after us 24/7...really good. Food was varied and interesting. We couldn't have gone without the wetsuits and Franklin took all respoonsibility for mailing them back.

Thank you for all your help and direction. The only thing I didn't know was how rough the sea was and I had to up my doses of motion sickness meds to cover it.

Sincerely

Sandi
January 2020
» View more cruise reviews
MAC(VTA) - Apr-2016