Drawing confidence from naturally beautiful surroundings and her status as the capital of Galapagos Province, Puerto Baquerizo is a great place to chillax in comfort, as well as a good starting point to many cruises and tours around the islands.
One of the most characteristics of Puerto Baqueriso are the views, the not-very-strenuous hikes and a selection of luxurious hotels to unwind in. But Puerto Baquerizo Moreno can and does offer more than that. It is a great center for adventure activities such as scuba diving and surfing, searching out wildlife, and getting around the island of San Cristobal where it's tucked away in the southwest corner.
Getting around Puerto Baquerizo Moreno
Even though is a small town, Puerto Baquerizo Moreno has everything you may need; airport, banks, hotels, restaurants, hospitals, largely due to its status as a provincial capital.
Roads in the center of this small town are paved with modern day cobblestones and as you stroll around the clean and uncluttered sidewalks you'll notice that there are internet cafes and restaurants with chairs and tables outside to take advantage of the often dry and sunny climate.
Just walking along the Malecon – boardwalk – looking out at the harbor dotted with fishing boats and small launches is enough to start to relax even those of us soaked in stress.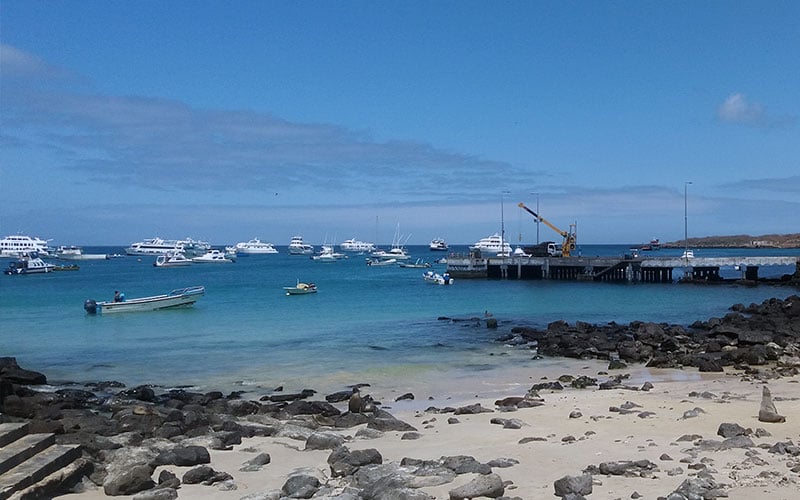 Some cruises and tours start in Puerto Baquerizo as flights arrive from Guayaquil but, be aware that even if you fly into Quito you'll still be routed via Guayaquil. The airport is right outside of town so you'll be kicking back in your hotel room in no time at all. Fast launches connect to Puerto Ayora on Santa Cruz and take roughly 2 hours for a one-way trip.
There are numerous restaurants to sample and fish-loving diners won't go disappointed here. El Descanso Marinero serves fresh seafood in an outside garden while Calypso allows you a night of seafood with burgers and pizzas additional to the seafood they specialize in.
Kicker Rock is the world famous site among the diving fraternity renowned for opportunities to see sharks, sunfish, schooling fish, and octopus.
At Punta Pitt, you can see manta rays and turtles while snorkeling, and also do a wet landing to climb up through a ravine to see frigate birds and blue and red-footed boobies.
Surfing in Puerto Baquerizo
If you really want to experience cool surfing, then the time is from December to March and the place is Punta Carola beach, this beach has always been famous for Galapagos inhabitant for its predominantly offshore wind which often creates ten-foot waves and some barrels.
There are other beaches and reefs around Puerto Baquerizo that cater for beginners to advanced so if you fancy learning in an exotic location or testing your skills on more challenging breaks then there's a spot for all surfers here.